In:
Good news for Royal Caribbean investors, Royal Caribbean Cruises Ltd. today announced improved earnings for 2010's second quarter as well as providing higher guidance for the third quarter and full year 2010.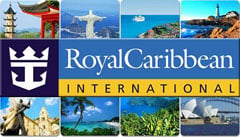 Royal Caribbean Cruises reported a net income for the second quarter 2010 of $60.5 million, or $0.28 per share, compared to a net loss of $35.1 million, or ($0.16) per share, in second quarter of 2009.  In addition, revenues improved to $1.6 billion in the second quarter of 2010 compared to $1.3 billion in the second quarter of 2009, as a result of capacity increases and yield improvements. Net Yields for the second quarter of 2010 increased 4.9% despite the impact of the stronger US Dollar.
Improved fuel consumption efforts resulted in significantly better fuel consumption of 318,000 metric tons during the second quarter. At-the-pump pricing (including the benefit of the company's hedging) was virtually unchanged. Altogether, the quarter's fuel expenditures were approximately $6 million better than previous calculations.
Business conditions have remained on target in each of the company's main markets while improved cost control has enabled the company to raise its earnings guidance for the year
Operating costs were lower than expected due mainly to strong cost control, energy conservation measures, expense timing and currency fluctuations
Second quarter Net Yields increased 4.9%, (5.4% on a Constant Currency basis)
Second quarter Net Cruise Costs per APCD, "NCC", declined 2.8%, (2.0% on a Constant Currency basis)
Net Yields are expected to increase approximately 4% in the third quarter and 3% - 4% for the year as a whole, (7% and 4% - 5% respectively on a Constant Currency basis)
NCC are expected to be down 1% for the third quarter and down approximately 1% - 2% for the full year
EPS expectation for the full year 2010 has been increased by $0.10 to $2.25 to $2.35. Third quarter 2010 EPS is expected to be in the range of $1.52 to $1.57.
Royal Caribbean Chairman and Chief Executive Officer Richard D. Fain, also commented on the progress for the quarter, "What a difference a year makes. It is gratifying to post another solid quarter with improvement in yields and strong cost control. Despite ongoing uncertainty with the economy, our profitability continues to improve and our booking environment continues to be remarkably stable. We remain focused on strengthening our financial position and I am encouraged about the tremendous global response to our brands."
Brian J. Rice, Executive Vice President and Chief Financial Officer talked about the reasons for a good second quarter, "Demand for our cruises remains on track with our earlier projections. The strengthening of the US Dollar will clearly result in a reduction of our reported yields, but also provides a corresponding reduction in expenses. Most importantly, our continued focus on cost controls and efficiency is driving improved earnings."