In:
Bloomberg BusinessWeek listed four types of boating vacations that you shouldn't miss and for the category of "the family", Oasis of the Seas was named its winner.  BusinessWeek liked the many options that the ship offers as well as the piece of mind of being on board.  They specifically chose the Eastern Caribbean itinerary for Oasis as well.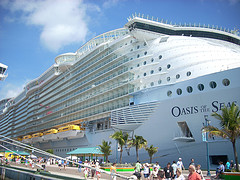 One key to bringing the brood together is being able to spend time apart. For all their flaws, cruises balance family and free time: You'll find activities aplenty—and containment that eases (some of) your worries about the kids.
I guess BusinessWeek should have called the category "the rich family" because it recommends the Royal Family Suite to stay in ($1,750 per person).