Best cruise ships ranked for getting away from it all
In:
Cruise vacations can be great opportunities to see the world and do a lot of interesting and new things, but for some people, they may just simply want a break from the "daily grind" and look to get away from it all.  
Smarter Travel has ranked the best ships for getting away from it all and Royal Caribbean can be found in the list.  Chief among them, Royal Caribbean's Oasis of the Seas is ranked as the "Best Ship to Get Lost In".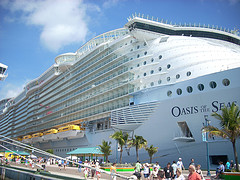 Why
: The biggest ships are roomy enough to disappear into, with entertainment, sightseeing, sports, and activities to suit every sort of personality. Celebrity Cruises, Cunard, Royal Caribbean, MSC Cruises, Princess, Carnival, and Costa all boast ships measuring more than 100,000 tons that carry thousands of passengers. But, of course, none beats the world's largest passenger vessel, with its capacity for 6,296 passengers and 2,394 crew, seven neighborhoods, 16 passenger decks, nearly two dozen restaurants and bars, plus shops, theatres, and a myriad of other public spaces. The ambience on Oasis of the Seas is cordially anonymous: As one Cruise Critic reviewer put it, it's "simply too vast to inspire connections." You can be introduced to someone early on and never cross paths again—and that really is a plus for the loner. Sister ship Allure of the Seas, whose maiden sailing is December 1, 2010, promises more of the same.
Quiet Escapes: Leafy Central Park is the standout among the Oasis-class ships' many restful nooks. Pop in for tapas in the afternoon at Vintages, a mood-lit wine bar with a floor-to-ceiling glass wall looking out onto the park. Oasis' Promenade Deck is where you'll exercise away the tapas; it's actually a .46-mile jogging track with an ocean view and is practically deserted come early evening. What could be more serene?
Best Rest: Spacious suites, preferably with balconies, give the feel of a retreat and, thus, are a better choice for solitary cruising than windowless, cheerless inside cabins that force you out into the ship's hustle and bustle. Choose a sea-facing balcony cabin for fresh air without fighting over deck chairs, or a balcony suite facing the AquaTheater, where you have a V.I.P. view of the show without ever taking an audience seat. If you'd like to splurge, book one of the enormous Loft Suites—with two floors, private living and dining areas, and gigantic balconies, you may never need to leave.
Dining a Deux: The loner's nemesis is traditional assigned dining, which forces interaction with strangers who might, if you are so unlucky, chit-chat nonstop for an entire cruise. But, Royal Caribbean is one of scores of cruise lines forsaking tradition: Its "My Time Dining" offers a choice of open or assigned seating in the main dining room; dine at off-peak hours to enjoy a table for two. Or, take advantage of the many bistro-style alternative eateries, where tables for two are easier to come by. You can pre-book reservations over the Internet, or just show up hoping for a table. Best for intimate meals are Chops Grille and 150 Central Park. Conversely, don't expect peace at Johnny Rockets and the Seafood Shack, both situated on the noisy, well-lit Boardwalk.
Beware! Due to their size, Oasis-class ships are sticking to the most popular (read: congested) mega-ports in the Caribbean, such as Nassau, St. Maarten, and St. Thomas. For tips on avoiding the crowds in port, read our sister site Cruise Critic's article, It's Tuesday in St. Thomas: Gridlock Alert?