Review of Royal Caribbean's private islands
In:
The Orlando Sentinel has posted a review of the private islands that cruise lines have been using to lure customers on their cruises for years.  These paradises are great for the beach lover and offer the benefits of a day of sun, sea, beach and more.   Included in these reviews are the two islands that Royal Caribbean offers to its cruisers.
CocoCay: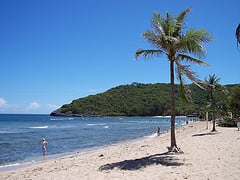 This 138-acre island (Little Stirrup Cay in the Bahamas' Berry Islands) offers a private island experience to Royal Caribbean International's passengers. It has beautiful beaches, food and drinks, organized pastimes including limbo contests, volleyball tournaments, and children's activities.A variety of water sports is available, including snorkeling--snorkelers can see a replica of a pirate galleon. When you just want to relax, one of the hammocks may be the ticket.
Labadee: 
Located on a 267-acre peninsula in Haiti's north coast this is another of Royal Caribbean's enclaves. In addition to the pleasures of the sea and sun, Labadee offers cultural pastimes including a folkloric show, tropical bands and artisans' market.Families with children will appreciate a water park, Arawak Cay, featuring water seesaws, slides and more.