Want to see Europe? Try a cruise
In:
Lots of Americans say that sooner or later, they are going to "see Europe" and hop on over "the pond" to see "the old world" but to be honest, Europe can be a little daunting if you aren't an experienced traveler but the Mercury News recommends trying a European cruise to get a sampling of Europe without the hassle of trying to figure all the details out yourself. 
Taking a cruise offers the chance to cover a lot of territory in Europe without the hassle of finding hotels, restaurants and transportation. It's the sampler approach to visiting Europe.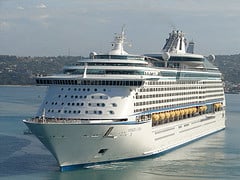 For fans of Royal Caribbean, seeing Europe is easy considering the cruise giant is increasing it's European fleet from eight to eleven ships next year, which will cover 27 countries and 78 ports.  If that isn't enough of Europe for you, Royal Caribbean also offers pre- and post-cruise tours for extended visits.
You can read a great report by the author's experience aboard Voyager of the Seas on her Mediterranean Cruise.
But we were more enthralled with Port Grimaud. The port is nicknamed the Venice of France because homes and business are built on canals, complete with boats and bridges. Kitschy jewelry and apparel shops line the canals, most of the restaurants feature outdoor seating, and boat tours show off the seaside town created by architect Francois Spoerry in the 1960s. A sandy beach is also the ideal spot to rest after a long week.