In:
A 71 year old man from Clinton, Pennsylvania was charged with with traveling with intent to engage in illegal sexual conduct after he admitted he took a December 2009 cruise on Royal Caribbean's Liberty of the Seas so he could have a sexual encounter a child.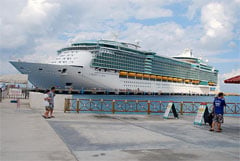 Authorities say Stevenson went into the children's area during a December cruise and fondled a 6-year-old boy in a hot tub. The FBI says surveillance footage shows Stevenson putting his arm around the boy and pulling him onto his lap.
A trial date has not been set yet for the case.