Oasis of the Seas breaks sound system record
In:
Oasis of the Seas has a lot of distinctions already, such as being the largest passenger cruise ship in the world, but there's yet another record that Oasis of the Seas has set. It is the largest ocean-going Meyer Sound systems.  These sound systems are the top of the line music entertainment systems that feature 268 loudspeakers that include Meyer Sound's most compact subwoofer, custom designed to meet the stringent space requirements on the cruise ship.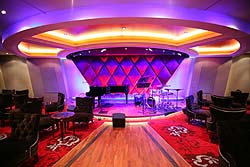 Royal Caribbean contracted the sound system work to FUNA International and it was their task to make the sound system work onboard the new ship.  Derek Warner, FUNA's senior project manager for Oasis of the Seas described the installation of the sound system as, "This was like building a full-scale Las Vegas hotel-casino or themed resort inside a ship".
The Royal Promenade on Oasis of the Seas is an open boulevard more than 100 meters long and features, bars, cafés, and nightclubs.  To make the sound system work in this vast and cavernous area, FUNA installed 42 UPA-1P loudspeakers concealed in dual overhead beams. To provide low-end support for the Disco Inferno Street Party and other events, 13 ultracompact self-powered subwoofers were deployed. Royal Caribbean Cruise Lines' director of entertainment technology and technical design, Christopher Vlassopulos had an idea to conceal subwoofers in some of the lamp posts and in response, Meyer Sound custom designed the MM-10, which it has since released as a new product for sale to the pubic.