In:
Royal Caribbean Vice-President of government relations for the Caribbean and Latin America, Michael Ronan, told Bahemian newspaper The Tribune, that in 2011 Royal Caribbean Cruise Lines will "be back up over 800,000 passengers" brought to the Bahamas.  That figure is over 100,000 more than in 2010, thanks in part to the anticipated delivery of Allure of the Seas.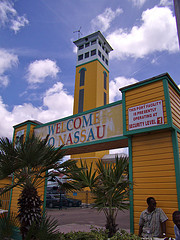 These figures include stops in Nassau, Freeport and its Bahamian private islands.  The news comes after a report that Oasis of the Seas was rumored to be ending stops in Nassau, but Ronan said the change was merely due to a difference in Western and Eastern Caribbean itineraries, where Oasis of the Seas only stops in Nassau on it's eastern Caribbean trips.  Ronan went on to explain that once Allure of the Seas became operational, it would start rotating Nassau calls with the Oasis of the Seas on a schedule that would be maintained through Spring 2012, with one of the ships stopping in Nassau opposite the other.
"With the Oasis vessels, we are significantly increasing the number of passengers that are going to be coming," Mr Ronan told Tribune Business. "We will be back up over 800,000 passengers in 2011. This year, I think we will be in the 700,000 in change, because we're still waiting for the arrival of the Allure, which will put us with a full year of Oasis class ships in Nassau every week. Last year, 2009, we bottomed out."
For the people of the Bahamas, the more cruisers that stop by, the better for the local economy.  For cruisers, a better economy in the Bahamas typically means less crime and better upkeep of the city (that's a generalization).