Cruising 101: Choosing your ship size
In:
If you're brand new to cruising or still getting your feet wet, one of the first decisions you'll need to make is the size of the boat to go on.  Royal Caribbean features an assortment of ship sizes from a capacity of about 2000 passengers to well over 5000 passengers.  There are a few factors to keep in mind when deciding which cruise to go on.
Ship capacity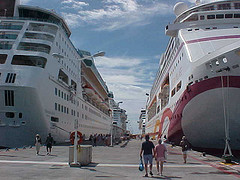 As previously mentioned, there's quite a difference in ship capacity and some people have strong feelings about big or small ships.  First, we should mention that "small" ships is a relative term and the smallest ships in Royal Caribbean's fleet can still accommodate over 2000 customers so it's by no means small (there are high schools bigger than that).  It's all relative and if you go on a smaller ship, you have less people to contend with you on board and at your ports of call, but at the same time, these ships are usually smaller in size and older in age and lack some of the amenities you may have read about in newer, larger ships.  
Larger ships offer lots more amenities on board but obviously bring with it a lot more people to contend with.  Some people prefer to cruise with less people while others prefer the bigger ships, regardless of the crowds.  The thing to keep in mind is that the capacity a ship has is in proportion to the boat's physical size.  So while a ship that handles between 2000 and 3000 people is smaller than other ships in the fleet, there's less room on board.  
Amenities 
What to do on board the ship can be just as important as where it goes.  The older ships while perhaps lacking the newest "cool things" like flowriders or ice rinks, are still a lot of fun and offer some superb cruising values.  The newer, larger ships will offer lots of the latest recreational activities that you find on a cruise.  It's important to determine which activities and opportunities are important to you.  If things like an ice rink, surfing lessons or a ton of specialty restaurants aren't important to you, a smaller ship will suit you just fine. It's important to look at the possible ships and see if what's offered on board is something you'd actually use or do and if not, go with a ship that will offer stuff for you to do.
Age vs Size
The tendency in the cruising industry is to build bigger ships each time, so typically the smaller ships are also the older ships.  There's lot of great things about older ships such as they being a better value (price wise), different itineraries than the usual ship and a more intimate feel.  Newer ships, which are typically larger, offer the latest and greatest.  Different people feel differently about the importance of the age of your ship.   Don't look at an older ship as the equivalent of driving an '86 Buick. These older ships are smaller and can be a lot of fun.  
Share your thoughts about ship size in the RoyalCaribbeanBlog.com Forum