In:
In light of the announcement that Royal Caribbean will begin charging a convenience fee to guests who order room service, the cruise line has published a copy of what its new room service menu will look like, along with an explanation for the change.
Royal Caribbean announced it would begin charging $7.95 per room service order, which has generated a lot of guest feedback.  
In a statement by the cruise line's customer loyalty program, the Crown and Anchor Society, Royal Caribbean explained the new room service fee was added as part of a new room service menu.  Here is a copy of their statement to guests.
"Royal Caribbean International has introduced a new premium room service menu in order to enhance the dining experience and to provide more options for guests. The new menu features upgraded items such as the Royal Wagyu Burger, a classic Philly cheese steak with shaved rib eye, chicken wings with a choice of four sauces, and a healthy grilled salmon dish with cucumber mint yogurt, to name a few.
In addition, new breakfast selections also have been introduced to the menu to provide an upgraded in-room breakfast experience for guests. Continental breakfast items, which remain free of charge, will still be available to all guests.
A new convenience fee of $7.95 per order will be introduced for any orders including the new premium selections. This was introduced to better manage the high demand for this convenient and upgraded service. Breakfast items listed under the continental menu will still be free of charge.
The new room service menu will be rolled out across the entire fleet starting in March and will be onboard all ships by the end of May."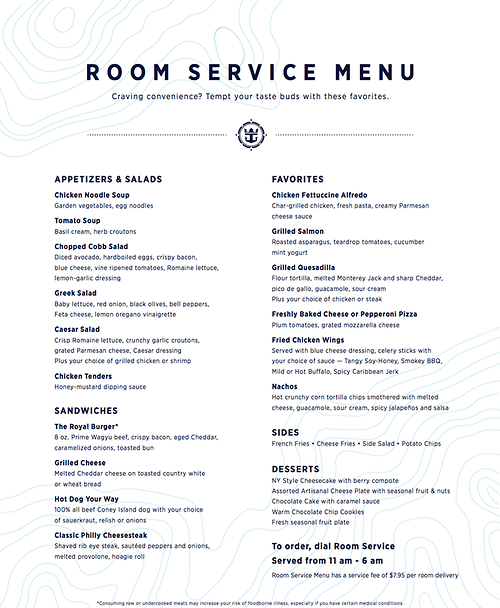 New Royal Caribbean room service menu
The new room service fee goes into effect on sailings after March 27, 2017.