In:
Royal Caribbean is among a number of bidders who are hoping to secure a contract to build a new cruise terminal in Lisbon, Portugal.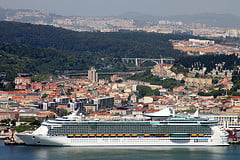 Three consortiums of companies have submitted bids to get the project.  The concept behind the project is to transform Lisbon from a cruise stop to a place where cruises start and end their cruises from.  In addition, increasing the number of tourists that cruise into Portugal.
This year, the port of Lisbon expects 561,000 tourists from cruise ships.  The new cruise terminal would look to raise that total to between 800,000 and 1 million tourists per year.  
The new terminal will be built in Santa Apolonia and will cost about 22 million euros.  The winning bidder will begin construction early next year so that the terminal can be ready sometime in 2015.  
Each of the bidders will be invited to meet with officials in early September to formally submit their proposals.  The contract will be awarded by the end of the year.