In:
Royal Caribbean signed an initial agreement with Taiwan International Ports Co. (TIPC) worth $33.3 million to build a cruise ship pier in outlying Penghu County to allow the company's cruise ships to dock there.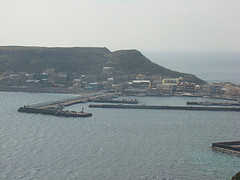 The deal is a joint venture, with Royal Caribbean having a 51 percent stake in the investment and state-owned Taiwan International Ports Corporation holding the remainder.
The new pier will be complete in 2016 and will allow for cruise ships as large as Oasis of the Seas to dock there.
The pier will be Royal Caribbean's first construction project in Asia.
TIPC says the new project will not only boost travel to Penghu but will also raise Taiwan's profile as a cruise destination, as it is likely to increase the number of tourists visiting the country's other ports such as Keelung, Taichung, Kaohsiung and Hualien.
Penghu announced plans to build a cruise port back in February