In:
Royal Caribbean's Cupcake Cupboard restaurant that is found on many of its ships has inspired a new cookbook that the cruise line has launched all about cupcake recipes as well as ice cream flavors.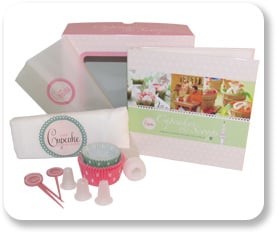 "Cupcakes & Scoops" features recipes for $34.95 and can be purchased aboard Oasis of the Seas, Allure of the Seas, Freedom of the Seas and Liberty of the Seas as well as online.
Included with the book is 1 apron, 1 piping bag, 3 piping tips, 25 regular cupcake liners, 25 mini cupcake liners and 12 decorative picks.
Royal Caribbean has also indicated that a $1 donation from each book sold will be benefit the cruise line's charitable partner Make-A-Wish Foundation.
In:
Royal Caribbean is looking for help naming a new cupcake in its Cupcake Cupboard restaurant that can be found on Oasis class sized ships as well as some other ships after recent upgrades.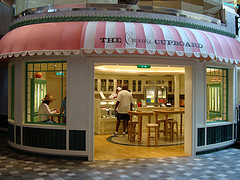 Here are the cupcake ingredients
Cupcakes
2 cups (465 g) gluten-free flour
½ cup (115 g) brown sugar
2 teaspoons (10 g) baking powder
½ teaspoon (2.5 g) baking soda
½ teaspoon (2.5 g) salt
1 egg
½ teaspoon (2.5 g) ground nutmeg
½ teaspoon (2.5 g) ground cinnamon
1 teaspoon (5 ml) vanilla extract
½ cup pumpkin purée, canned
¾ cup milk or buttermilk or soy milk
1/3 cup (90 ml) vegetable oil
½ cup (115 g) dried cranberries

Frosting
1 batch of light buttercream frosting mixed with ½ teaspoon nutmeg
If after reading this (and drooling), you have an idea of what this cupcake should be called, you can post your answer on this Royal Caribbean Facebook post.  Submissions must be sent by July 25th and the winning name for the new cupcake will be available on Oasis, Allure, Freedom of the Seas & Liberty of the Seas starting in October.
Subscribe to Cupcake Cupboard