In:
Royal Caribbean announced their new service called "Cruise-Fly" in partnership with SATS, that offers its guests a seamless process from the pier to the airport for flight check-in and baggage drop off.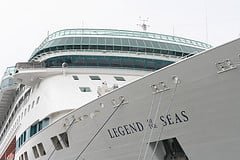 For guests traveling on Legend of the Seas, cruise passengers who arrive in Singapore a day ahead of taking an evening flight can check-in for their flights and drop-off their bags at their convenience upon arrival.
Passengers traveling with Singapore Airlines, SilkAir, Qantas Airways, Air China, China Eastern Airlines, China Southern Airlines and EVA Airways will be able to make use of the service.
Royal Caribbean's regional director for South East Asia, Kelvin Tan, likes the new service, "We are pleased that SATS is able to offer this innovative service to value-add to our international guests' cruising experience.  Cruising in itself is a very hassle-free travel option and the Cruise-Fly initiative elevates this notion by bridging and shortening the distance between the pier and flight check-in services, and at the same time, bringing these guests to the doorsteps of some of the most exciting tourist destinations in Singapore. We hope that more and more of our guests can take advantage of this service whenever our ships call at Singapore."