In:
You may have heard of specialty cruises where groups of people go cruising together, but the big trend that the media loves to talk about are "cougar cruises", where older women (over the age of 40 or so called cougars) look for younger men (in their 20's or so) to meet and the idea is women find young men for "companionship" while the young men find a woman who has financial stability, among other things.  This past May, Mariner of the Seas hosted the second cougar cruise but it didn't seem to be a huge success.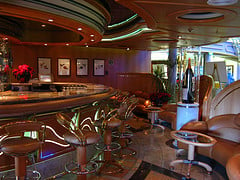 "But 20 or so other so-called "cougars" have taken the bait and signed on for what is billed as the second-ever International Cougar Cruise, a week-long Mexican Riviera sailing out of Los Angeles in May. From the get-go, the more vocal among the 25 or so "cubs" along for the ride are grousing about the lack of "Demi-ness" among the cougar contingent. And the more snarly cougars shoot back that there isn't necessarily a lot of Ashton-ness on display, either."
There have been specialty cruises like singles cruises that hope to offer potential soul mates the opportunity to find love while in paradise and there's been some controversy as to the validity of these events.  Personally, I think a lot of hype comes with this sort of news and the reality is it's not the sexy romp that some may lead you to believe.