In:
Must be something in the water today because there's another cruise ship review that has been posted. Alex from a2zcasino.eu recently took a cruise aboard Enchantment of the Seas and he gives a good overview of everything you can find aboard the ship.  He also spells out what he did upon embarkation including the obligatory first buffet meal.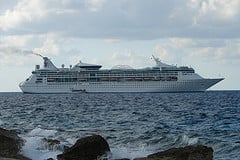 All passengers are instructed to head for the upper decks to dine at the buffet that is waiting for their arrival. Most cruise ships offer this as a way for their guests to kill an hour or so until the staterooms are ready. If you have be smart and skipped lunch before boarding the ship, you will enjoy this large offering of food. The selections are excellent. The staff stays obvious so that any questions that you may have can be resolved.
The article is a good read for anyone who has a cruise booked on Enchantment of the Seas and is looking for something to help get that cruise "fix".  It's too bad that the site, a casino guide, didn't spend more time detailing the casino options aboard Enchantment.  Oh well, there's always next cruise.