In:
Anyone with a special dietary restriction knows that traveling and sticking to your diet is never easy but Charu Suri posted about her experience on a three night Royal Caribbean cruise that she took to the Bahamas and shared her experience of eating vegan while on Royal Caribbean.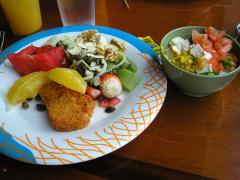 Going into the cruise, Suri was worried that the options for her on board would be very limited, to the point that she'd have to eat the same boring meals every day.  Moreover, she wondered if they'd even have vegan friendly alternatives, such as soy milk instead of regular milk.
As soon as Suri was onboard, her fears were dismissed after seeing how closely the Royal Caribbean chefs were not only monitoring her dietary needs but responding to them, "The chefs on board were more aware of my dietary needs than I had given them credit for. Before long, I was feasting on Indian dishes, delicately-flavored al dente pasta and crisp, almost "farm to table" quality salads."
Suri did run into a "problem" with dessert.  Before long she was getting sick of the usual offerings and decided to ask to see if there was anything else available. She asked the Head Waiter and the very next day, she had a special dessert prepared for her based on her vegan needs.
According to a 2008 Vegetarian Times survey, around 3.8% of the American population was vegetarian, and around 0.5% was vegan.  Based on her experience, it seems eating vegan on a Royal Caribbean cruise is a very practical possibility.