In:
The Spanish website El Nuevo Dia compiled a list of the top 15 man-made wonders of the world, which include engineering feats such as The Channel Tunnel between England and France, the Three Gorges Dam hydroelectric plant in China and the Hoover Dam.  Among the list, coming in at number 14 is Royal Caribbean's Oasis of the Seas.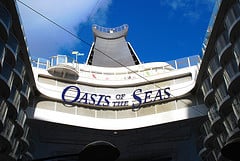 Royal Caribbean's Oasis of the Seas made its debut in 2009 as the largest cruise ship in the world. It is almost five times the gross tonnage of the Titanic and 1 1 / 2 times the U.S. Capitol building, has 16 decks and up to 6,296 guests. The cruise ship offers a week in the east and west of the Caribbean. Cruises depart from Port Everglades in Fort Lauderdale, Florida.
Looks as though Oasis is in good company with some of the other amazing technical achievements man has accomplished.  No word on if they included those who wore shorts to the main dining room on Oasis while voting occurred (just joking).