In:
Today it seems like every cruise ship has lots of different amenities to choose from like water slides, pools or other fun recreational activities.  HospitalityNet wrote an article about the advent of water based fun on cruise ships and looks back to Royal Caribbean pioneering the idea of physical entertainment on a cruise ship when they debuted rock climbing walls, mini-golf and ice-skating rinks in 2005.  Then in 2006, Royal Caribbean launched the industry's largest passenger ship at the time, Freedom of the Seas, with an onboard surf simulator called a FlowRider and an H2O Zone aqua park. Ever since then, it's been a competition among the cruise lines to out do each other.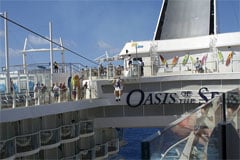 The article talks about what the different cruise lines have, but here is the write up on Oasis of the Seas.
Oasis of the Seas is the largest cruise ship at sea. It is the first to have a carousel, a full Broadway show, a zipline, two FlowRiders, a beach pool and an aqua theater that offers synchronized swimming and high-dive performances.
It is the first ship to offer seven distinctly themed neighborhoods --- (1) Central Park, (2) Boardwalk, (3) Royal Promenade, (4) H2O & Sports Zone, (5) Spa & Fitness Center, (6) Entertainment Place and (7) Youth Zone. Think you might be bored? Think again.
Cruise consultant Jennifer Crivelli offers this advice: "Mom can visit Central Park right on Deck 8, complete with trees, gardens and dining. In the evening, she can attend the Broadway musical Hair Spray on board in the Opal Theater. She can even visit the Vitality at Sea Day Spa to enjoy a massage or facial. Dad can spend his days at sea on Deck 16, practicing his surfing on the FlowRider in the H2O Zone. Who wants to climb a mountain, when you can climb a 30-foot rock wall a hundred feet above the ocean? And there is even a zipline. Sports practice is not a problem either. Oasis of the Seas has a full-sized basketball/volley court and fitness center in the Sports Zone. At the beach, Junior can walk the Boardwalk, eat cotton candy and ride the carousel. Sis can lounge by one of the four pools and work on her tan."