In:
Taylor Swift fans and cruisers alike…. Are You Ready For It? And by it, we mean a Taylor Swift Fan group cruise on Royal Caribbean's Allure of the Seas.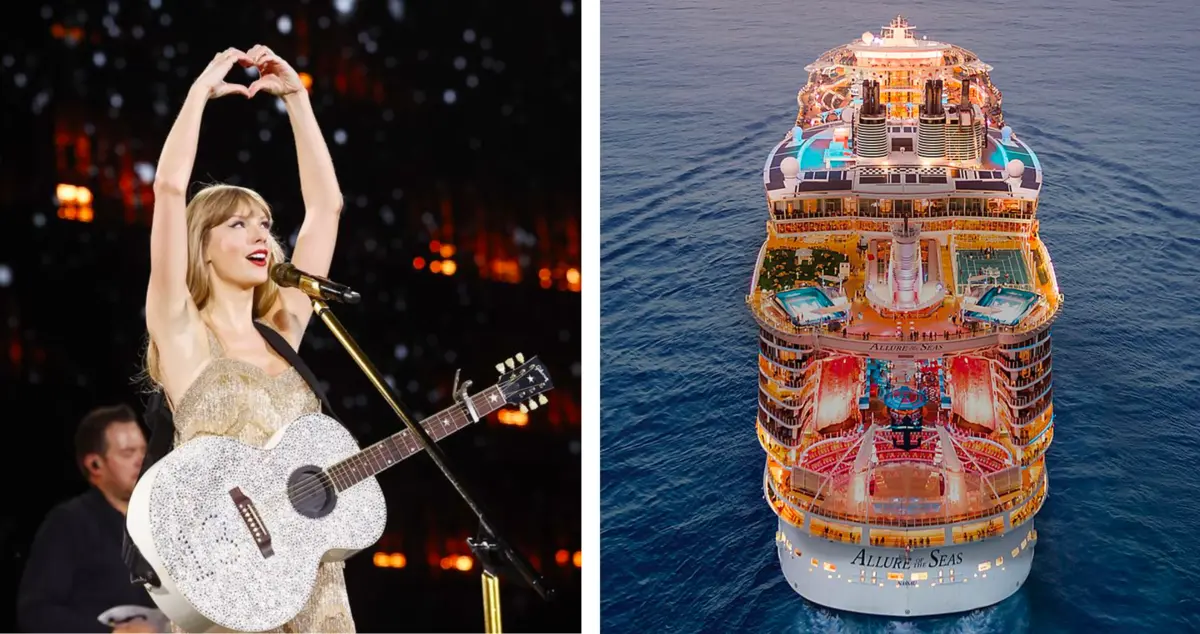 If you are a fan of Taylor Swift and love to cruise, there's a sailing for you.
Marvelous Mouse Travels announced a 4-night group cruise will take place in October 2024 that will focus on celebrating all things Taylor Swift. The travel agents are huge fans of Taylor Swift and therefore wanted to coordinate a fun getaway for other Swifties to celebrate their love of Taylor Swift. 
This special sailing sets sail the day after Taylor Swift's record-breaking Eras Tour comes to Miami on October 21, 2024. Whether you've snagged tickets to the concert or you simply want to meet other Swifts, the group cruise is open to all fans of Ms. Swift. 
It's time to pack away your cardigans and set sail with fellow Swifties into the gorgeous sunsets of the Bahamas. Even better: You won't need to wait in the dreaded Ticketmaster queue to attend this Swiftie gathering!
During the Taylor Swift Fan group cruise, Taylor Swift fans will enjoy cocktail parties, Taylor Trivia, themed dance parties, friendship bracelet swapping and Taylor-themed karaoke. All events are included in the cruise fare and exclusive to those participating in the group cruise. 
According to the agency, there's already been a huge demand for the Taylor Swift Fan group cruise. Thanks to TikTok, many Swifties have already secured their cabins onboard the sailing. In fact, the travel agents said they needed to request additional cabins onboard Allure of the Seas to meet the popular demand!
However, it's important we make it abundantly clear that Marvelous Mouse Travels is not affiliated or endorsed by TASRM or Taylor Swift. Sadly, Taylor Swift herself will not be making any appearances on this cruise. Instead, this is meant to be a fun gathering for all fans of Taylor Swift to share in their love of the global pop star. 
Group cruises are organized sailings that allow fans to sail together onboard a cruise while participating in group activities
Royal Caribbean has a long-standing reputation of building some of the biggest and most innovative cruise ships in the world, making Allure of the Seas an excellent choice to host a group cruise.
Most often, you'll book group cruises through a travel agency to ensure you have access to all the exclusive, organized events that take place on the ship. During the cruise, group cruisers take part in special events and activities with fellow group cruisers.
Marvelous Mouse Travels states, "The cruise fare also includes special themed activities available on this sailing only. Details will be released soon, but you can expect Taylor inspired theme nights and activities like Taylor karaoke, trivia, scavenger hunts, door decorating contests and more!"
However, you won't be spending every waking moment of your cruise doing group activities. On most group cruises, there are one or two daily planned events throughout the sailing. In this way, you can still find time to yourself onboard your cruise if you need to recharge your social battery.
How much does it cost to sail on the Taylor Swift Fan group cruise?
Prices for the organized group cruise start at $1,573 for two guests, depending on which stateroom you choose to book. Balcony staterooms - dubbed "Karma is the breeze in my hair on the weekend" for this special sailing - will cost more $1,967.
As with any cruise, you will need to take into consideration what type of stateroom you want to sail in to budget appropriately. According to the information page, Boardwalk Balconies are already sold out for the Swiftie Group Cruise. 
To book your spot onboard the Swiftie group cruise, you'll want to book directly with Marvelous Mouse Travels. The organizers note that events will have capacity limits and only those who book directly with the agency will be guaranteed a spot for events during the group cruise. Because of this, if you choose to book independently, you might not be able to participate in all of the activities during the cruise. 
Airfare is not included in the cruise fare. You will also need to book your own drink package, shore excursions, specialty dining and internet. These are available for pre-purchase through the cruise planner or you can book onboard; however, the fare for the Taylor Swift Fan cruise does not include these premium add-ons.
This won't be the first time Royal Caribbean's Allure of the Seas will been filled with Taylor Swift fans
It might be hard to believe now, but Taylor Swift once performed live onboard Allure of the Seas for a small stadium of fans before she was the A-list superstar she is today. 
Back in January 2011, Taylor Swift performed onboard Allure of the Seas, which was the world's newest and largest cruise ship at the time. The concert was in front of about 735 passengers, although Allure of the Seas can hold 5,400 passengers at maximum capacity. 
On January 21, 2011, Taylor Swift performed a live concert for cruisers when the ship was docked in Cozumel. The small concert look place on Allure of the Seas' signature AquaTheatre. In an interview after her performance, Taylor noted how Allure's AquaTheatre was such a unique venue for her to perform at. She shared how cool it was to see fans not only in the amphitheater itself, but also fans watching from their Boardwalk Balconies above the stage.  
While most performances on cruise ships coincide with the launch of a new ship, Taylor's performance on Allure of the Seas did not. At the time, Taylor Swift was planning to embark on her Speak Now tour following her third album release. 
If you wanted to attend the concert in the AquaTheatre, guests needed to earn a pass for the performance. During the cruise, Allure of the Seas hosted multiple contests and opportunities for guests to earn a coveted ticket for the concert. Some of these included Taylor karaoke and a Taylor Swift lookalike contest. Since the AquaTheatre can hold less than 800 people on Allure of the Seas, passes to the concert - even then - were hard to come by. 
Many Swifties (myself included) begged their parents to cruise on Allure of the Seas for the chance to see Taylor Swift in such an unconventional venue. One could argue that Taylor Swift is the biggest star to ever perform on a Royal Caribbean cruise. 
Taylor Swift continues to be a massive pop-star with her chart-topping music and wildly popular stadium tour
Unless you've been living under a rock, you probably know that Taylor Swift has quite literally been boosting the economy with the unprecedented demand for her tour. Between her Grammy-nominated album releases and three-hour-long Eras concert tour, Taylor Swift is the biggest name in pop culture. 
For many Swifties, the tour has become more than just a concert - it's an opportunity to meet other like-minded fans. Call it what you want, but Ms. Swift's popularity has cultivated a community filed with dedicated and passionate fans. 
Fans bonding over a mutual love of Taylor Swift makes the perfect opportunity for a marvelous time onboard Allure of the Seas. You're sure to be enchanted meeting so many Swifties onboard!