In:
Work on a new adults-only area at Perfect Day at CocoCay indicate a great deal of progress is being made.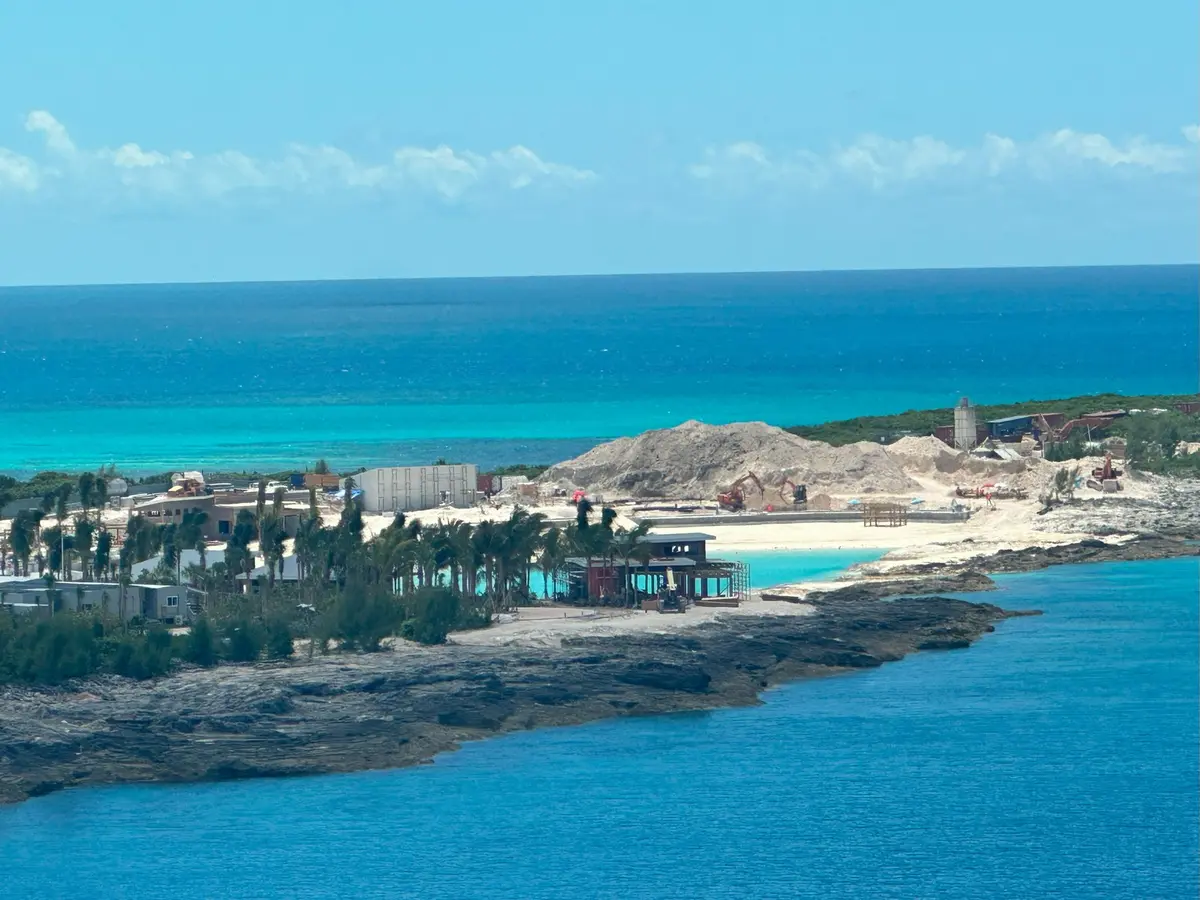 While visiting Royal Caribbean's private island on Saturday, I had a chance to take photos of the construction progress on the Hideaway Beach area.
Hideaway Beach will be a new area reserved exclusively for adults, although that's about all the details we know.
Back in September 2021, Royal Caribbean announced that they would be building a new adults-only area.
Hideaway Beach was the first expansion of Perfect Day at CocoCay since Royal Caribbean launched the luxurious Coco Beach Club in 2020. 
Walking onto Perfect Day at CocoCay, it's apparent work is being done to add a new path to take guests to Hideaway Beach.
When guests walk to the Arrival Plaza, there are color coded pathways to make it easier to navigate to which area of the island someone wants to go.  It appears as the new path for Hideaway Beach will follow the coast and go around Thrill Waterpark and the tram area.
Walls prevent guests from getting close to the construction, so instead I took photos from the top deck of Independence of the Seas.
Royal Caribbean hasn't released any kind of previews of what the area will look like, nor what amenities will be available. 
It appears they have carved out a beach area that is rather large. We do know that in a past earnings call, Royal Caribbean International President and CEO Michael Bayley indicated the new area will increase the island's capacity by 3,000 guests.
Zooming in closer we can see one large building being built close to the shore.
There's also concrete structures along the outer edge of the lagoon.
Opposite the building closest to shore is another large building, along with other structures in various stages of construction.
If you're wondering when Hideaway Beach might open, it's also not clear.
Royal Caribbean has promised Hideaway Beach will be ready by the time Icon of the Seas begins sailing, which will take place in late January 2024.
Beyond that, it's anyone's guess at this point when the expansion might be ready before then, if at all.
Perfect Day at CocoCay has been a home run for Royal Caribbean because of the high ratings its customers have given it, along with additional revenue it generates.
The combination of passenger-approved things to do, coupled with extra cost add-ons that have been quite profitable has resulted in a win-win for passengers and cruise line.
"Hideaway Beach will make perfect day at CocoCay even more perfect with an entirely new experience expanding capacity to the island," said Royal Caribbean Group CEO Jason Liberty during the company's first-quarter earnings call in 2023.