In:
Food is an important part of any Royal Caribbean cruise, and most passengers enjoy meals in both the buffet and dining room during their sailing.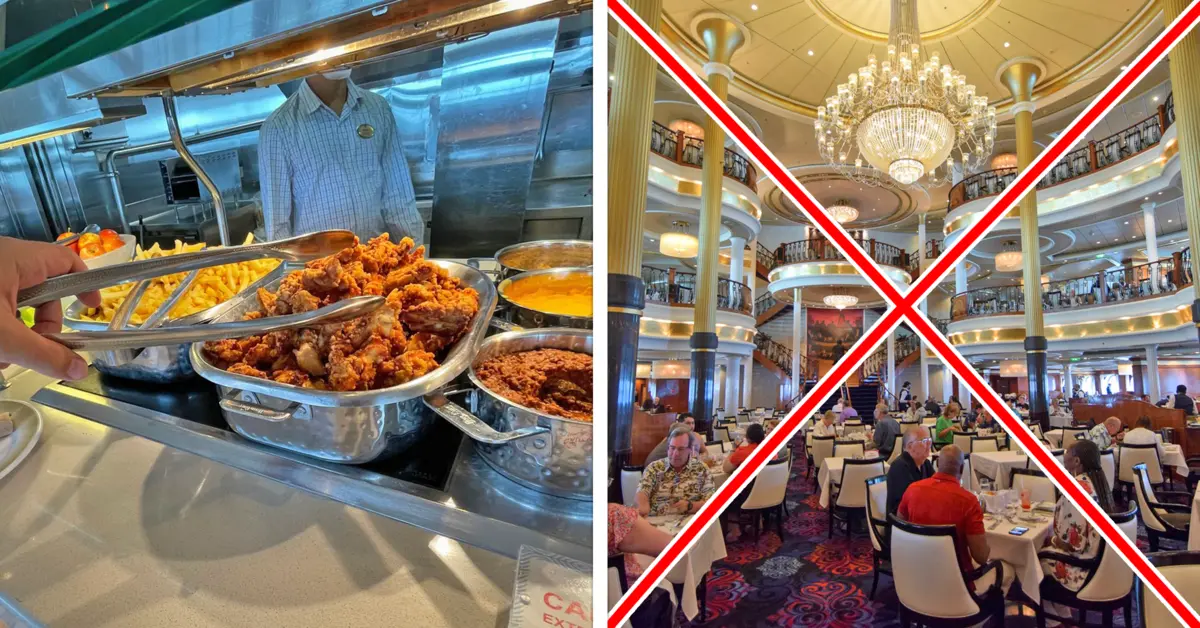 Royal Caribbean's Windjammer buffet and Main Dining Room are extremely popular places to grab a bite to eat on a cruise, but like other dining venues onboard, each comes with its own set of advantages and disadvantages. The buffet is casual and hosts a wide range of food options, whereas the Main Dining Room offers a more traditional sit-down restaurant experience.
While onboard your Royal Caribbean cruise, it's likely you'll find yourself deciding between the buffet and dining room for most meals. To help make this decision easier, here are 12 reasons to eat at the buffet instead of the dining room on your cruise.
Quicker service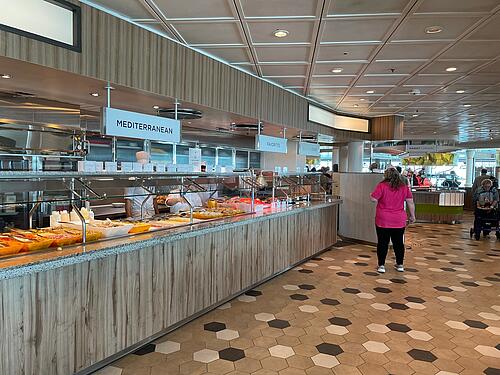 One of the complaints most frequently heard about the Main Dining Room is that the service is too slow, leading to a longer meal than anticipated. Although a "long" meal can vary greatly from person to person, you can expect dinner in the Main Dining Room to last around 75-90 minutes.
You can have dinner in the buffet, on the contrary, in under fifteen minutes. If you aren't in the mood for a long meal and would rather get in and out as quickly as possible, the buffet is, undoubtedly, the better option.
Related: Guide to Royal Caribbean's Windjammer Cafe buffet
Even breakfast and lunch in the Main Dining Room will last longer than eating those meals in the Windjammer. Generally speaking, if you're impatient or in a rush, avoid the dining room and opt for a quick-service meal option.
More options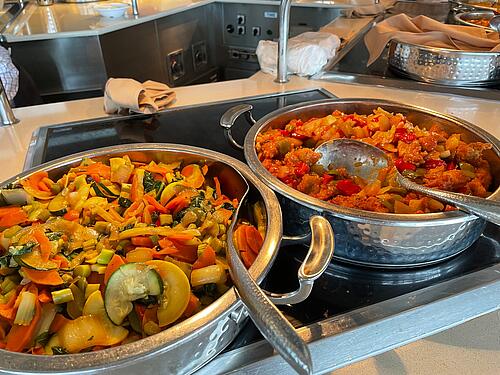 The most variety of food on a Royal Caribbean cruise can be found at the buffet. One of the biggest surprises for first time cruisers is the amount of variety available at any given meal. 
From pasta to burgers, tacos, and curries, there's always something for everyone to enjoy at the Windjammer. While breakfast usually offers the same type of food each day, you will always find something new to enjoy for lunch and dinner.
The Main Dining Room menu changes each day for lunch and dinner as well, but the options are still much more limited compared to the buffet. For dinner, you can expect to see six appetizers, seven main courses, and six desserts on the dining room menu.
Related: Take a look at the new Main Dining Room menus
The Windjammer, on the other hand, allows you to mix and match from dozens of options, creating limitless meal possibilities.
Same food as the Main Dining Room
Oftentimes, the Windjammer buffet has many of the same food offerings as the Main Dining Room.
In fact, this has become more and more common ever since the new Main Dining Room menus launched, each having a nightly theme. Several of the courses offered during Mexican night in the dining room, for example, may also be found at the Windjammer.
Therefore, you're not entirely missing out on the food in the Main Dining Room by eating in the buffet. Plus, on top of the overlap with dining room courses, you'll have a vast selection of other dishes available.
No dress code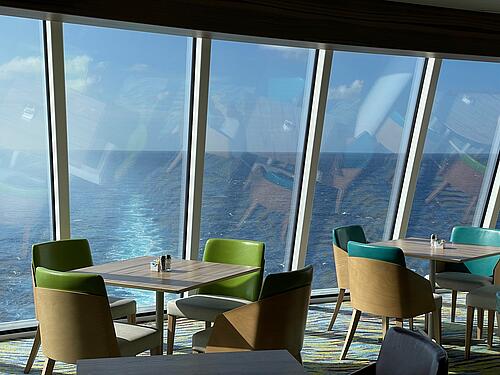 One of the main reasons cruisers dine in the buffet instead of the dining room, especially on formal nights, is the lack of a dress code.
Royal Caribbean's Main Dining Room dress code is relatively lax, but you shouldn't show up to dinner in the same outfit you'd wear to the gym. Most passengers choose to dress semi-nicely for dinner in the dining room, wearing collared shirts, slacks, and sundresses.
On formal night, it's common to see guests wearing suits, gowns, and high heels, although dressing so elegantly is not entirely necessary. In fact, it's highly unlikely you'll be turned away from the dining room for wearing jeans and a t-shirt on formal night.
Related: What to wear on a cruise formal night
Nonetheless, many passengers choose to dine at the Windjammer instead of the Main Dining Room for the more relaxed dress code. It's perfectly acceptable to dine at the Windjammer in a swimsuit cover-up, athletic shorts, and ripped tank top.
For many guests, dealing with the hassle of getting ready for a sit-down dinner feels like a chore on vacation.
Eat as much as you want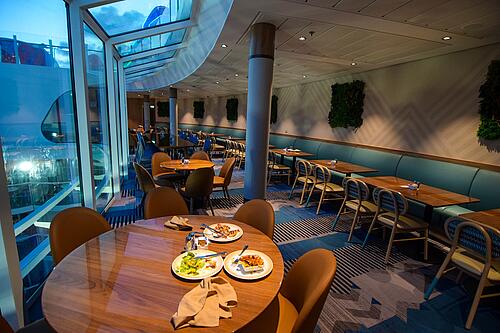 When it comes to dining on a Royal Caribbean cruise, passengers indulge in more food than they would at home. Whether three desserts at dinner or a second plate of cinnamon rolls at breakfast, there's nothing wrong with eating more on a cruise compared to your normal diet.
No matter which venue you dine at for breakfast, lunch, and dinner, you can eat as much (or as little) as you want. Dining in the buffet, however, makes eating as much as you want easier than in the Main Dining Room.
When ordering at a sit-down restaurant, it's hard to know the portion size for each dish. As a result, you may end up with too little or too much food than you'd like. This results in you either wasting food or wanting to order another dish, but not wanting to wait for another plate to arrive at your table.
Related: Food on a Royal Caribbean cruise
When eating in the buffet, you know exactly how much you're putting on your plate at one time. If you're not feeling hungry, hit up the salad station for a lighter meal. Or, if you're still hungry after your first plate, head back to the buffet station for a second helping.
There's more control over how much you eat in the buffet compared to the Main Dining Room on a cruise.
There's still a bar
Planning to enjoy wine, cocktails, or beer with dinner? The Windjammer, like the Main Dining Room, serves alcoholic and nonalcoholic drinks.
Royal Caribbean's buffet has a standalone bar where you can order drinks, and if you have a drink package, your package will work here as well. There's no need to sit down for a lengthy meal in order to enjoy a drink with dinner.
Put in your drink order, grab your food at the buffet, and sit down with your drink and meal within just a few minutes.
Amazing views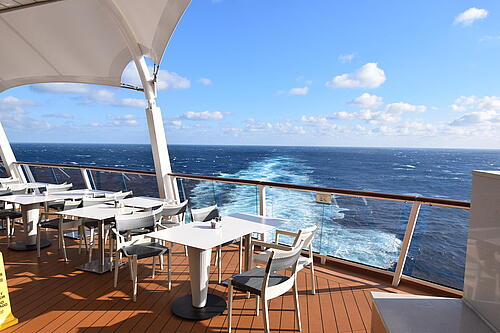 The buffets on Royal Caribbean cruise ships are located on the upper decks and have floor-to-ceiling windows looking out towards the ocean. Grabbing a table by the windows and dining with beautiful views of the ocean or cruise port is a wonderful way to enjoy a meal.
Some ships even have an outdoor seating area of the Windjammer, where you can enjoy your meal as you watch your ship sail from port to port. When traveling through scenic areas, this alone is enough of a reason to skip the Main Dining Room and head to the buffet instead!
While some tables in the dining room have outdoor views by a window, the vast majority of tables are located further inside the room. Therefore, most passengers in the dining room have no way to enjoy an ocean view during their meal.
Too tired from port
Despite the fact that cruises should be relaxing, some port days can be exhausting! Whether you spent the day lounging under the warm Caribbean sun or riding an ATV through the jungle, you can easily feel tired after a day in port.
And when you feel tired, the idea of getting showered, dressed, and ready for dinner seems unappealing. The good news, of course, is that you're under no obligation to eat in the Main Dining Room!
After a busy port day, dine at the buffet instead for a quick, casual meal. There's no need to further exhaust yourself by getting ready for a formal sit-down dinner.
Great for picky eaters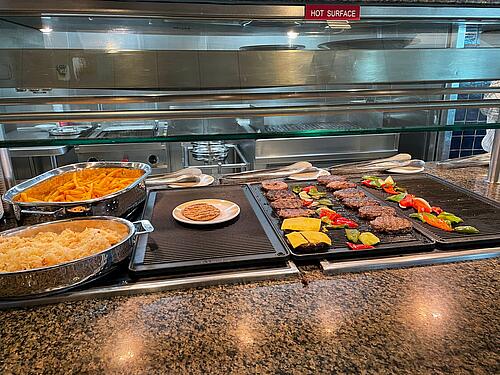 Royal Caribbean's Main Dining Room offers several options for picky eaters, especially if you look at the Kids Menu, which serves items like spaghetti and chicken fingers.
Beyond the Kids Menu, many appetizers and main courses may not appeal to the pickiest of eaters. Escargot, lamb curry, and chicken marsala are certainly excellent dishes, but they could be a nightmare for those in search of more basic options.
Fortunately, the Windjammer is a haven for picky eaters. No matter the meal, you're sure to find dishes perfect for picky eaters, such as pizza, hamburgers, and mac and cheese. Passengers won't have to worry about leaving their comfort zone for a meal, as they can easily find familiar dishes at the buffet.
Of course, there is a huge selection of more adventurous cuisine at the Windjammer as well for non-picky eaters. From spicy Indian cuisine to tropical fruits, dining at the buffet allows you to taste a plethora of new dishes throughout your cruise.
Arrive whenever you want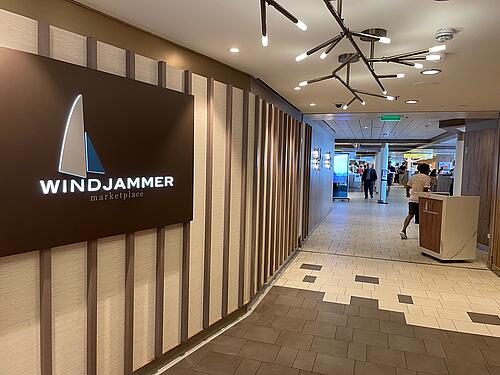 The Main Dining Room adheres to a stricter schedule compared to the buffet on a Royal Caribbean cruise. If you selected traditional dining when booking your cruise, your dinner is at a set time each evening.
Even if you selected My Time Dining, which allows you to show up to the dining room at any time during dinner hours, you may still face rigidity in regards to the time you dine. With My Time Dining, you can make reservations for a set time in advance each evening, or you can show up and wait in a line until a table is ready.
Related: Royal Caribbean My Time Dining versus Traditional Dining
For passengers who need more flexibility in dining times, dinner in the Main Dining Room can be too structured. Even if you show up to My Time Dining without a reservation, there's a chance you'll be waiting in line longer than you'd like.
If you dine at the buffet, though, you can arrive and eat at whatever time is most convenient, provided the Windjammer is open. There's no need to make reservations or wait in a lengthy line. Simply show up, grab a plate, and enjoy your meal!
Frees up your evening
A long dinner can mess with your plans for the evening. If you want to see a show at 7PM, hit up the Solarium for sunset, or ride the waterslides with no lines, you may not want to be tied down to a set dinner schedule.
By eating at the buffet, you can quickly eat and continue the evening's activities. There's no need to sit down for one or two hours each evening when you could enjoy more exciting attractions around the ship!
You're cruising with kids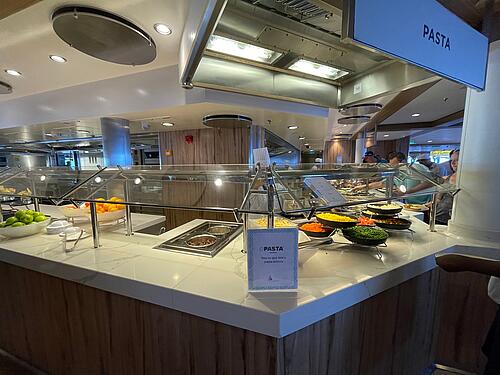 If you're cruising with young kids, eating in the Windjammer as opposed to the Main Dining Room can make your meals pass by much more smoothly. There's no need to worry about your kids crying and screaming during an otherwise quiet meal or keeping them occupied when waiting for each course to arrive.
The buffet is a much more casual environment, meaning you can quickly feed your kids with (hopefully) a smaller chance of temper tantrums along the way.
Related: 50 best cruising with kids tips & secrets
Some parents prefer bringing their kids to the Windjammer for dinner before dropping them off at Adventure Ocean for supervised programming. Once the kids are dropped off, the parents can head to the Main Dining Room for a more tranquil meal.