In:
The cruise industry is poised for a major comeback, and Royal Caribbean sees better things to come over the next year and a half.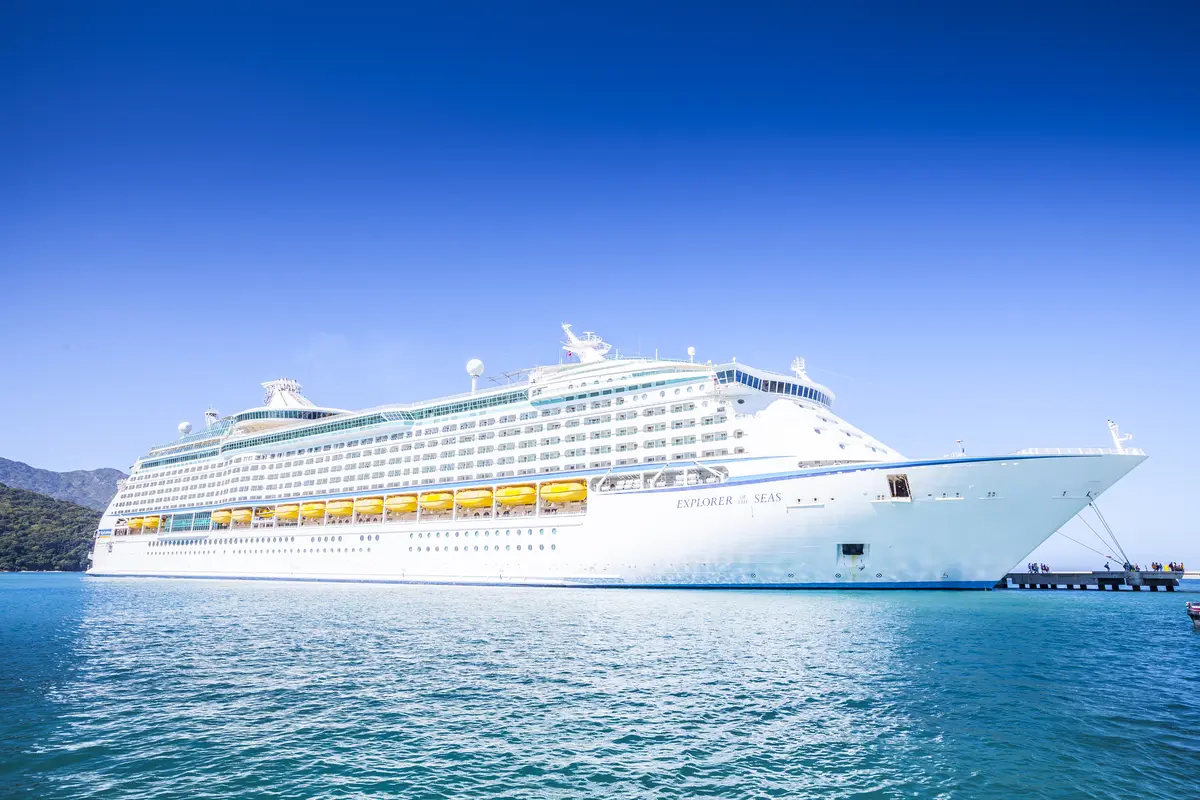 Speaking at Seatrade Cruise Global conference in Miami on Tuesday, Royal Caribbean Group CEO Jason Liberty shared his thoughts on the prospects for emerging from the depths of the pandemic.
"We expect the back half of this year to normalize and 2023 to look and behave like the pre-Covid period," Mr. Liberty shared when asked about his thoughts of the future.
Mr. Liberty expects this to be a transitional year, with 2023 performing better than pre-pandemic, "That means all ships back up and running and full capacity."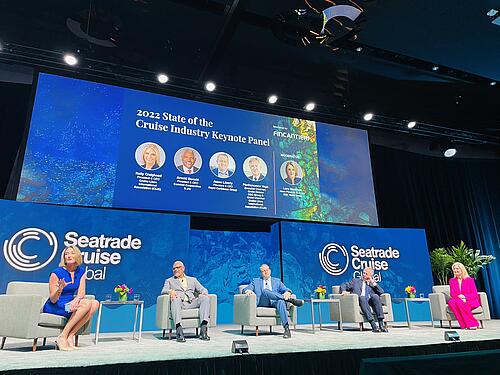 A strong 2023 has largely been Royal Caribbean Group's plan since talking to Wall Street in February.
During the company's earnings call with investors in February, executives said they expected a a return to profitability in the second half of 2022.
Part of getting customers back is establishing confidence in the experience, "By doing our jobs and building that confidence, the desire to cruise is back to where it was before Covid."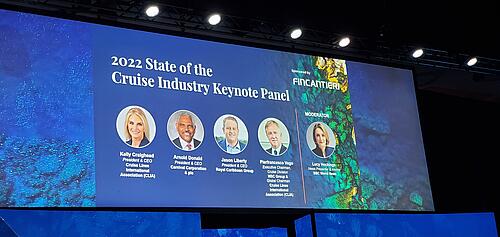 "Throughout the pandemic, we've learned a lot about the capabilities of our organizations, especially in terms of health and safety."
Joining Mr. Liberty at the keynote event was Carnival Corporation CEO Arnold Donald and MSC CEO Pierfrancesco Vago.
Mr. Donald also thinks things are looking brighter in the near future, "The overall trajectory for the cruise industry is good … it's resilient and there is a tremendous amount of growth potential. The overall future for cruise is extremely bright."
Cruise industry resilience
The same day of the keynote, the cruise industry took a moment to celebrate some important milestones that point to more people wanting to get back on a cruise ship.
Cruise Lines International Association (CLIA) shared their new findings of how strong demand has been for cruises despite all the challenges.
In a statement, CLIA President and CEO Kelly Craighead talked about the recovery process, "As the industry resumes operations, passenger volume is expected to recover and surpass 2019 levels by the end of 2023, with passenger volumes projected to recover 12% above pre-pandemic levels by the end of 2026.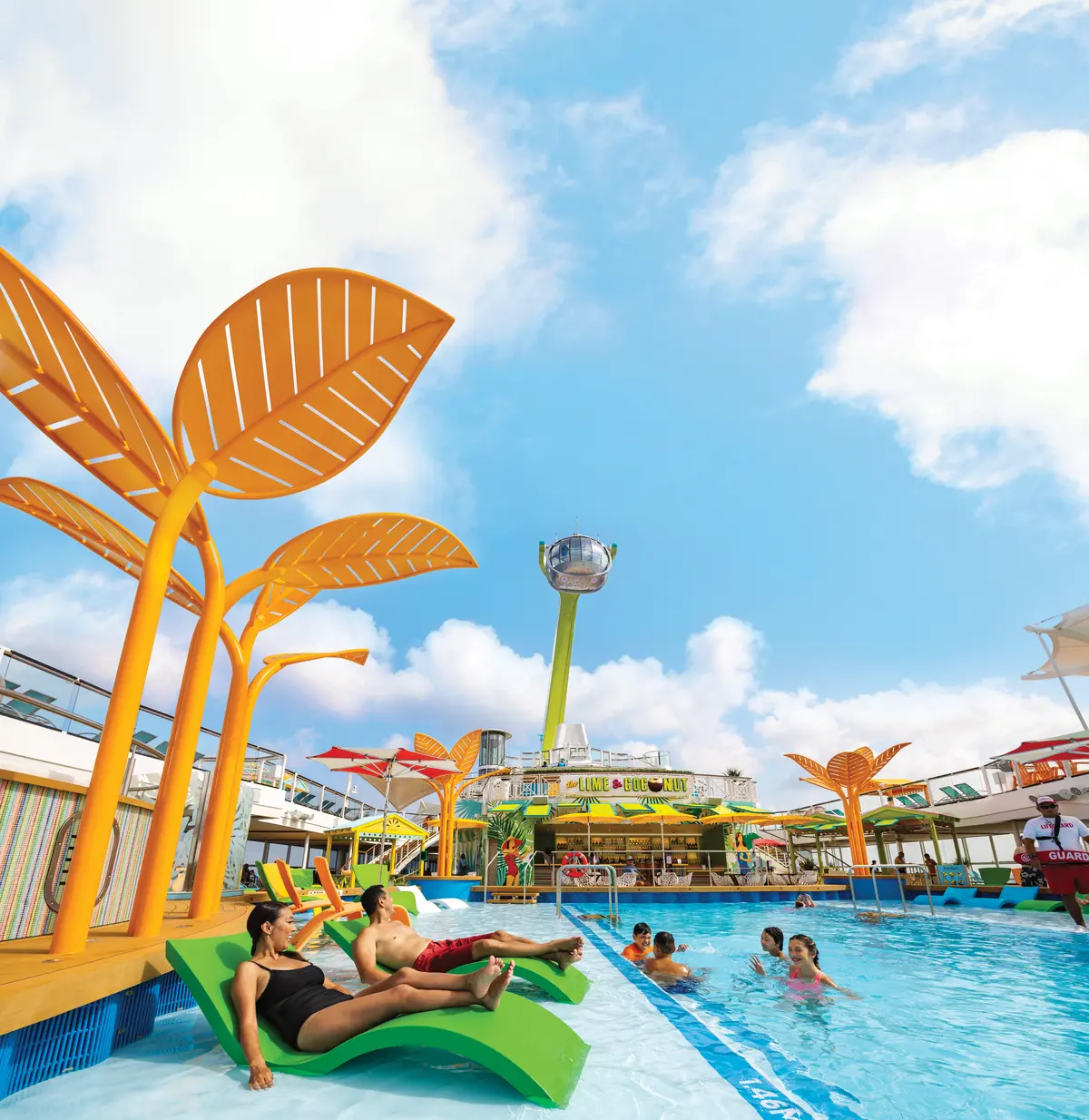 "Cruising is accessible, responsible, and experiential - making it the best way to see the world for people of all ages and interests. With the support of an incredibly resilient community, the future of the cruise industry is bright."
CLIA's consumer research had some interesting facts:
Intent to cruise is rebounding, with 63% of cruisers or potential cruisers indicating they are 'very likely' or 'likely' to cruise in the next two years.
69% of respondents that have never cruised said they are open to cruise, exceeding pre-pandemic levels.
Millennial cruisers are the most enthusiastic about taking another cruise, with 87% indicating they will take a cruise in the next few years, followed by Gen X at 85%.