In:
A few weeks after registering a number of names for a cruise ship, Royal Caribbean has sent a survey to its most loyal passengers asking for their input on which one to choose for the next Oasis Class ship.
While Royal Caribbean's fifth Oasis Class ship, Wonder of the Seas, is just a few months away from launching, the cruise line is looking to move forward with its sixth and final Oasis Class ship.
In mid-December, Royal Caribbean registered 24 different trademarks for names of a possible cruise ship with the United States Patent and Trademark Office.
Earlier today, Pinnacle Club members in Royal Caribbean's Crown and Anchor Society received an email asking them for opinions on the names.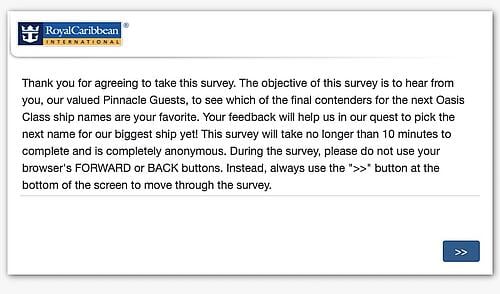 "The objective of this survey is to hear from you, our valued Pinnacle Guests, to see which of the final contenders for the next Oasis Class ship names are your favorite," the email stated.
The survey first asked to rank the names from least to most appealing.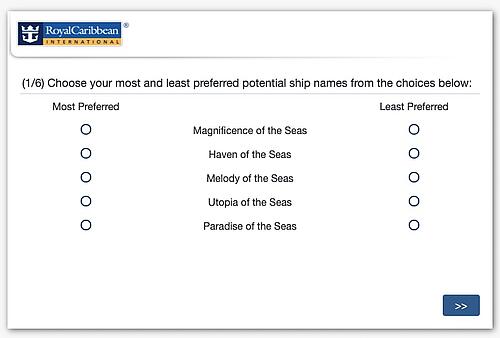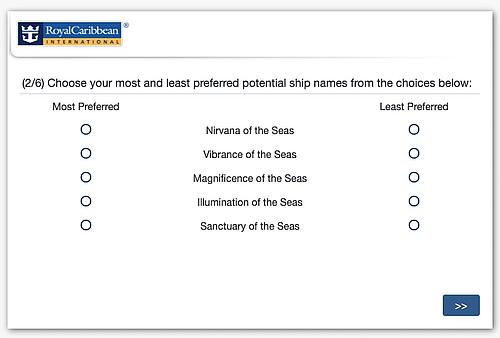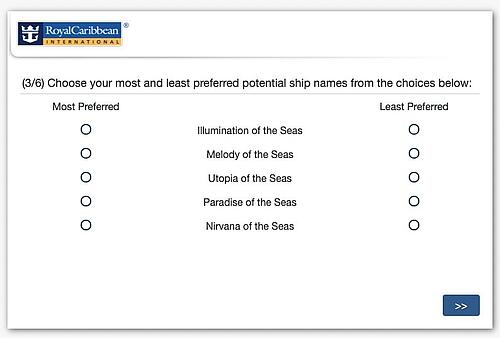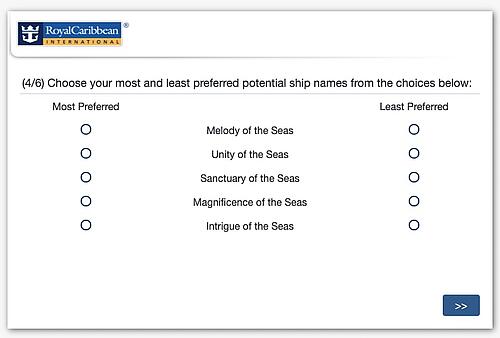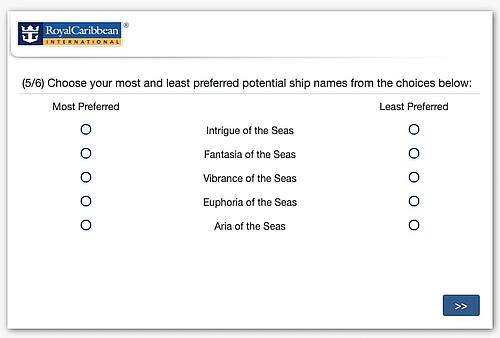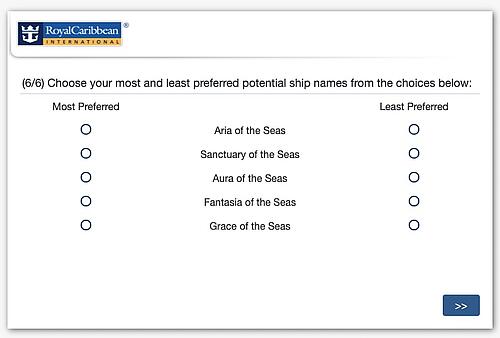 It then asked to rate the appeal of each name, followed by choosing a favorite.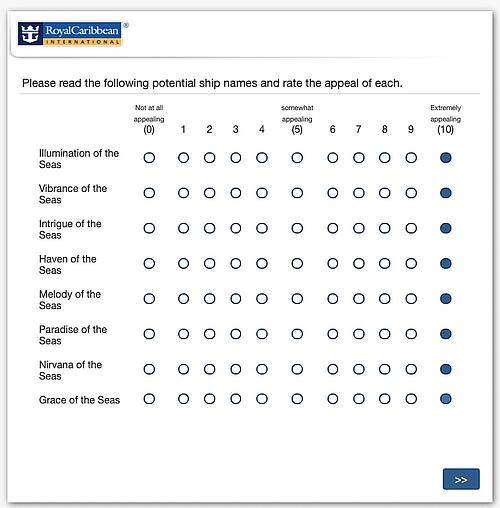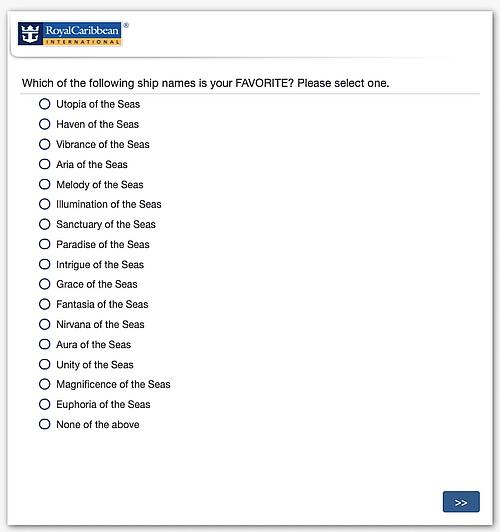 Here are all the new names trademarked:
MAGNIFICENCE OF THE SEAS
FANTASIA OF THE SEAS
PARADISE OF THE SEAS
HAVEN OF THE SEAS
MELODY OF THE SEAS
GRACE OF THE SEAS
SANCTUARY OF THE SEAS
ILLUMINATION OF THE SEAS
UNITY OF THE SEAS
INTRIGUE OF THE SEAS
ARIA OF THE SEAS
EUPHORIA OF THE SEAS
SPLENDOR OF THE SEAS
AWE OF THE SEAS
ETERNITY OF THE SEAS
EDEN OF THE SEAS
VIBRANCE OF THE SEAS
BLISS OF THE SEAS
AURA OF THE SEAS
UTOPIA OF THE SEAS
JOY OF THE SEAS
MARVEL OF THE SEAS
NIRVANA OF THE SEAS
DIVINE OF THE SEAS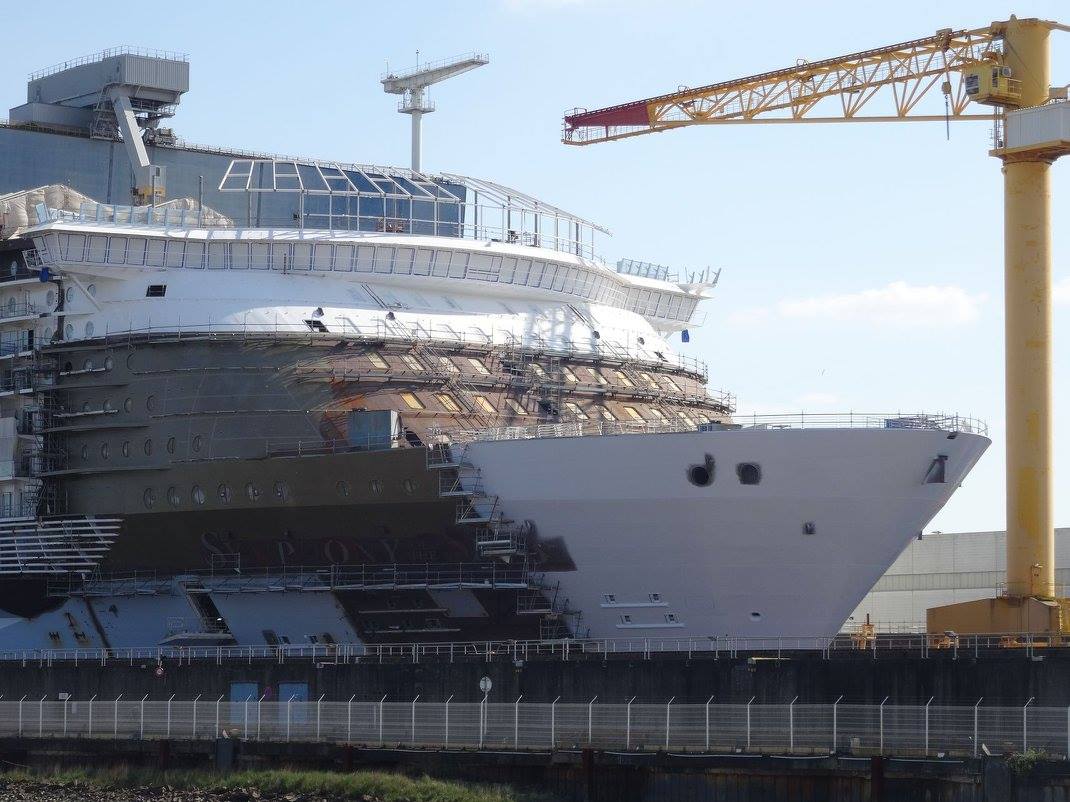 The sixth Oasis-class ship is expected to be delivered in the second quarter of 2024. It is currently under construction at Chantiers de l'Atlantique in France.
Prior to that ship, Icon of the Seas will be delivered in the 3rd quarter of 2023.
The yet-to-be-named megaship will follow sister ships Wonder of the Seas, Symphony of the Seas, Harmony of the Seas, Allure of the Seas and Oasis of the Seas, which are among the largest cruise ships in the world.