In:
When I look back to my first cruise ever on Mariner of the Seas last month, I think of the stunningly beautiful beaches, watching the sunset over the ocean from Deck 12, and, of course, the obscene amount of delicious food I consumed.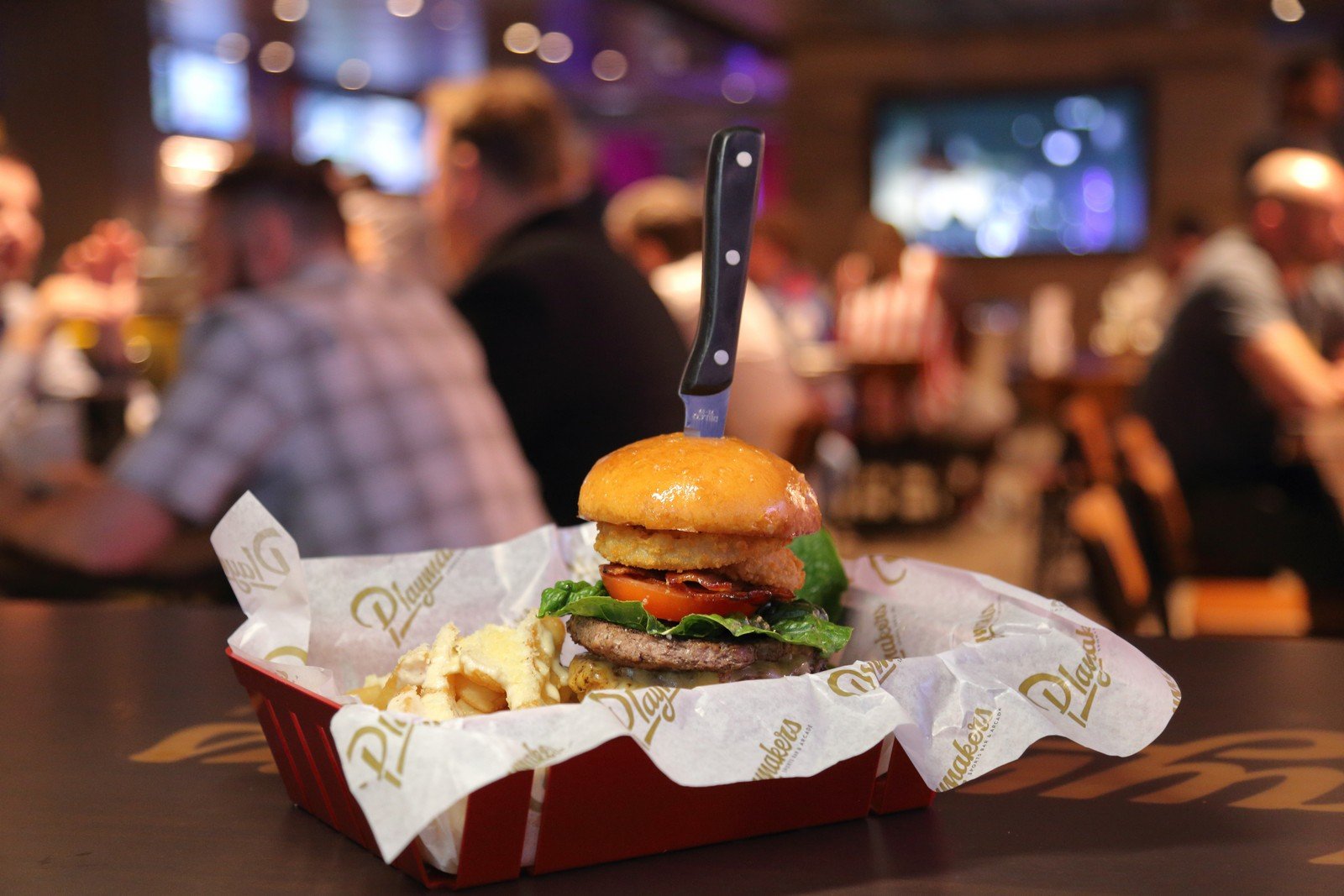 I'll admit, I actually had quite high expectations for the food onboard prior to embarkation. Royal Caribbean heavily markets its dining options and I had heard a LOT about the food while editing videos on the Royal Caribbean Blog YouTube channel.
So when I got onboard, I was ready to taste all that Royal Caribbean had to offer, and I was not disappointed. Here's a look at the top things I had on Mariner of the Seas.
The Teppanyaki Experience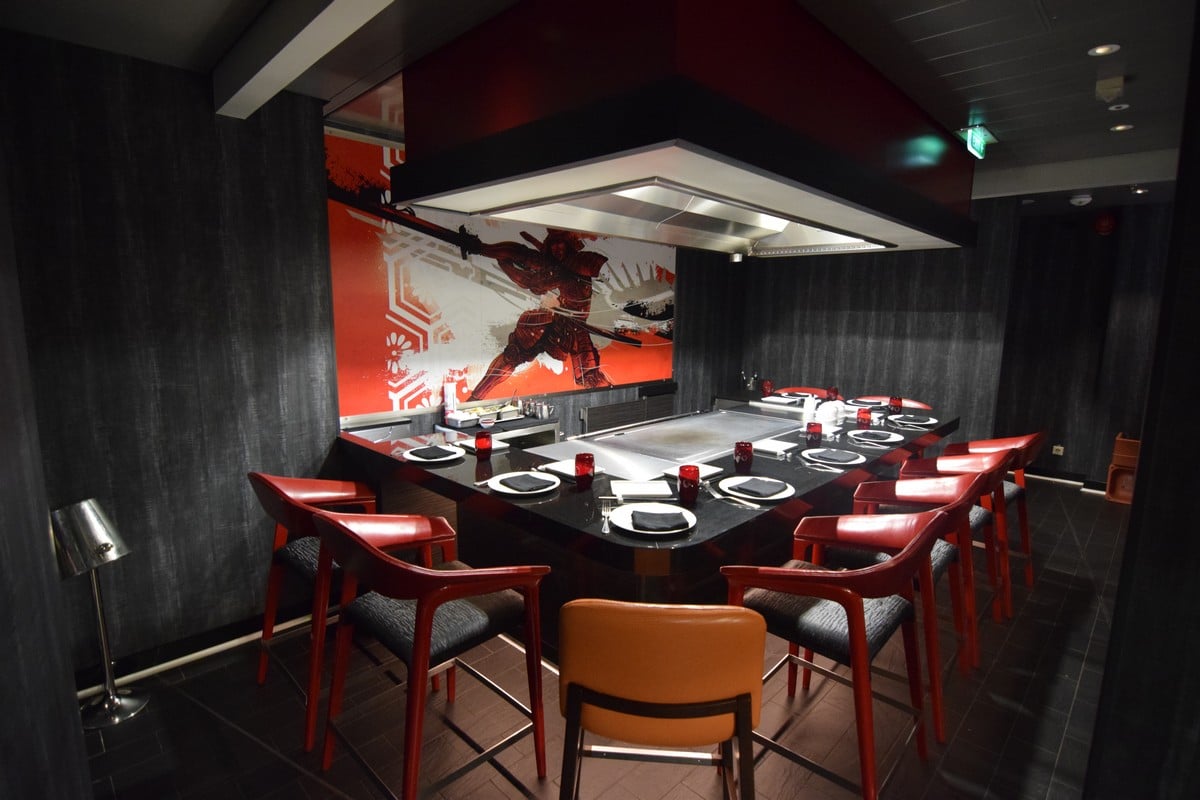 Prior to my cruise, I had never experienced teppanyaki. This is a popular dining option on Royal Caribbean, where chefs cook in front of you at Izumi, the Japanese specialty restaurant onboard (Note: on some ships, Teppanyaki is a separate venue).
On Mariner of the Seas, Izumi is a combined sushi bar and teppanyaki area. Experiencing teppanyaki onboard is not only fun, since the chefs add entertainment and humor to the cooking experience, but the food is also extremely fresh. Our chef prepared vegetable fried rice, assorted vegetables flavored with teriyaki sauce, beef, and chicken. 
For dessert came the crispy sesame balls filled with sweet red bean. Don't forget to pair all of this with my favorite drink at Izumi, "She's a Geisha".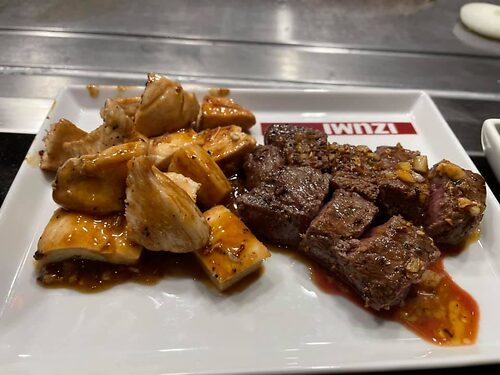 If you are going to try one specialty restaurant on your next cruise, I would recommend reserving teppanyaki. Not only will you have a fantastic meal, but the experience will be a highlight of your sailing.
Campfire Cookie & Nachos at Playmakers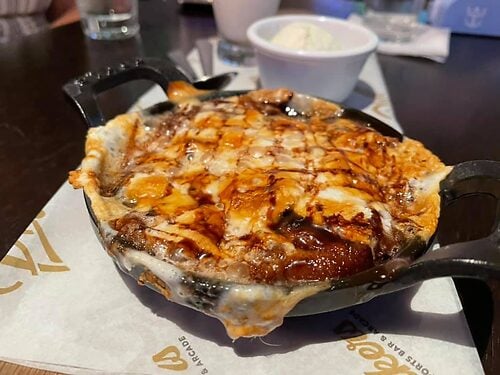 After a long day in the sun at Cococay, getting ready for a long meal in the Main Dining Room did not sound so appealing. Instead, we decided to head to Playmakers and share a few appetizers. Bar food is usually not my go-to option at home, so I was curious to try it out.
To be honest, I arrived expecting greasy, mediocre bar food, but I was exceptionally surprised by how fantastic the food was at Playmakers. We ordered four appetizers to share: the pile on nachos, a very tall crispy onion ring tower, chicken tenders, and Playmakers fries.
Topped with guacamole, cheese salsa, jalapeños, onion, and chopped tomatoes, the pile on nachos were by far my favorite, and they were a perfect appetizer to share around the table. There is also the option to "pile on" the nachos with either chili or pulled pork, so you really can't go wrong.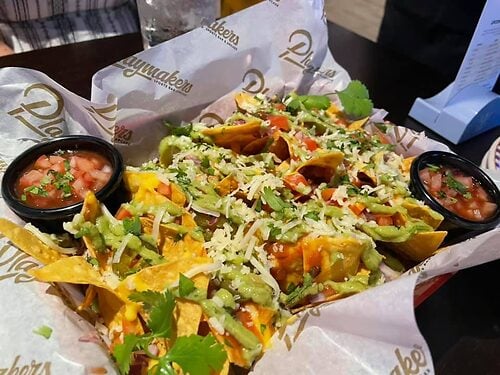 Playmakers did not disappoint when it was time for dessert, either, and you cannot eat at Playmakers without ordering the campfire cookie. Ooey, gooey, chocolatey, and buttery, the campfire cookie is Royal Caribbean's take on s'mores and I am all about it. The campfire cookie is a skillet-based dessert that features a chocolate chip cookie base topped with toasted marshmallows. The cookie comes with a cup of vanilla ice cream and a small glass of milk for your dipping pleasure. 
Playmakers has an extra-cost, but I found the prices very reasonable, especially because the portions were enough to share with a group.
Breakfast at the Windjammer
It may not be as "fancy" as some of the other meals I had onboard, but eating breakfast at the Windjammer is a quintessential Royal Caribbean experience and I just had to include it in this list.
You really can't go wrong with heading to the buffet, especially in the morning on a port day. While I boarded Mariner of the Seas somewhat expecting a college dining hall quality experience, I was surprised by the freshness and diversity of options at the Windjammer.
The Windjammer has your standard American breakfast fare like eggs, bacon, and pancakes. However, there is also a "live cooking" station where you can order custom omelettes as well as an international section where you can find cuisines such as Indian or Indonesian.
One of my favorite breakfast choices were the blended smoothies and juices they had as a grab and go option. I was surprised to see these options available to everyone at the Windjammer instead of being available with a drink package or extra cost. A fresh watermelon or strawberry banana smoothie was a great start to my day.
Mozzarella Sticks at CocoCay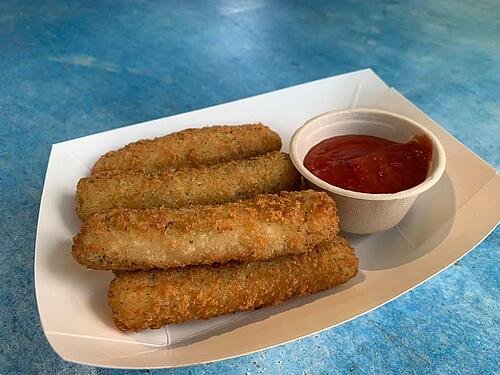 I think I've reached the point in this article when I come clean. Out of all the food I ate at Perfect Day at CocoCay, including a wonderful three course meal at the Coco Beach Club, the mozzarella sticks were my favorite thing to eat on the island.
Don't get me wrong… the Coco Beach Club was excellent and probably the best meal option available at Perfect Day at Cococay. The hummus and pita were particularly incredible. And don't even get me started on how good that chocolate brownie was...
That being said, I am obsessed with how delicious and cheesy the mozzarella sticks were.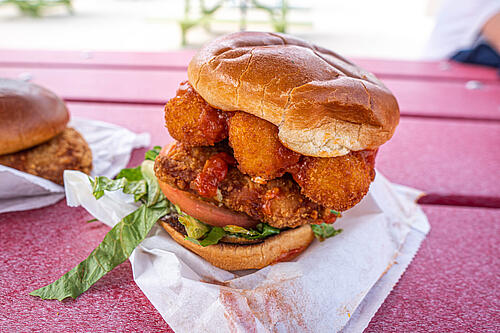 You can find these life-changing mozzarella sticks at the various Snack Shack locations on the island. In fact, a popular "secret menu" option at Cococay includes a generous helping of mozzarella sticks, the Snack Shack chicken parmesan sandwich. It is their signature chicken sandwich topped with marinara sauce and, you guessed it, fried, cheesy, and delightful mozzarella sticks.
I am grateful that these mozzarella sticks are only available at Cococay and not on the ship itself because I most certainly would eat way too many of these while onboard.
Everything at Jamie's Italian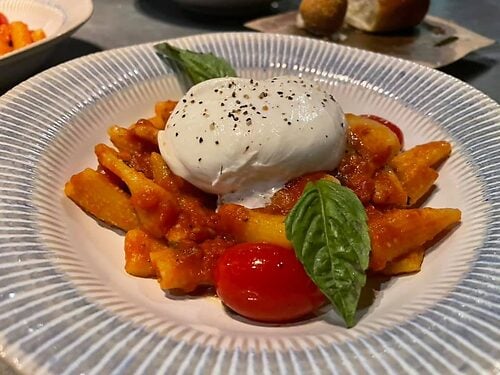 Having grown up in an Italian-American family, I woke up to the delightful aroma of my mom's sauce nearly every Sunday morning. Saying I grew up almost entirely on sauce and pizza isn't too far of an exaggeration.
Therefore, of all the specialty restaurants onboard, I was most excited to try out Jamie's Italian. Jamie's is one of Royal Caribbean's specialty Italian restaurants onboard (the other being Giovanni's Kitchen). I wouldn't say Jamie's is 100% authentic Italian cuisine, but I wouldn't consider it Italian-American cuisine, either. The restaurant brings a fresh look at Italian food, which we tasted in its appetizers, main courses, and dessert.
Our table shared three appetizers. First, the ultimate garlic bread. It's cheesy, it's doughy, and it is downright unreal. You really can't go wrong with garlic bread, but you CAN take it to the next level, and that's what they did at Jamie's Italian. Next, the truffle arancini. Arancini are crispy, savory fried rice balls that originate in Sicily, and they were as delicious as they sound. And lastly, the creamy burrata. I still daydream about this one…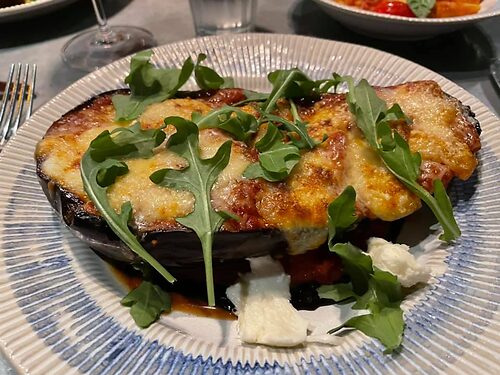 Outside of appetizers, we each ordered fresh penne pomodoro pasta and eggplant parmesan. The eggplant parmesan was more of a gigantic eggplant boat, which I had never seen before, and it was cooked perfectly. I was impressed that Jamie's makes all of their pasta fresh as this adds a huge increase in quality to the dishes.
Lastly, for dessert we ordered tiramisu, raspberry pavlova, and the rich, chocolatey epic brownie. And yes, it was all epic.
Overall, I was impressed by all of the dining options on Mariner of the Seas. Whether a specialty restaurant or complimentary dining option, Royal Caribbean takes pride in offering fresh, unique, and high-quality meals onboard its ships.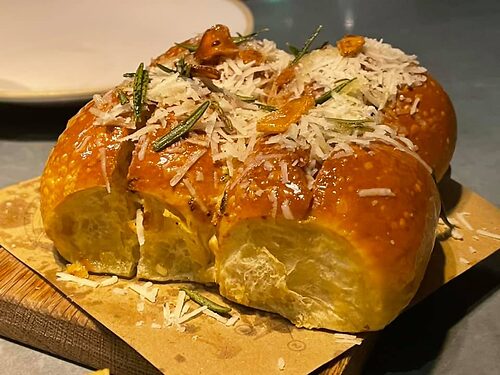 My recommendation for first-time cruisers is to look into purchasing a 3-night dining package. This usually comes at a reasonable price and gives you the opportunity to sample both complimentary dining as well as three separate specialty dining options. 
Wherever you decide to dine onboard, though, be prepared for excellent quality, top-notch service, and a beautiful evening at sea. And lastly… bring stretchy pants just in case.