In:
Junior Suites are a popular room category for the blend of extra space and not over-the-top pricing it affords guests, and on Freedom of the Seas, they added a few new rooms during her refurbishment.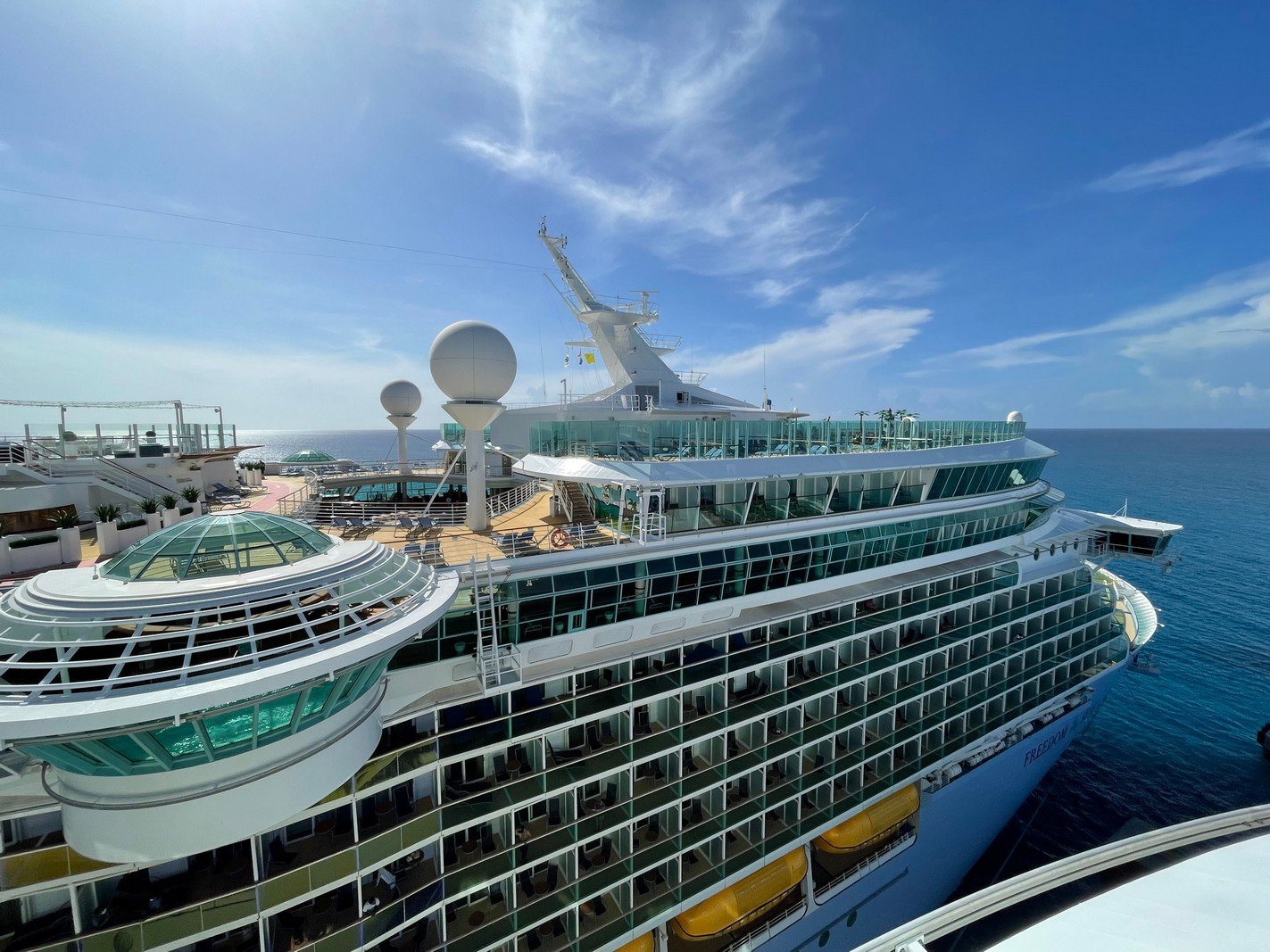 I am a big fan of any new stateroom added during a refurbishment, because these new staterooms are new construction, and they generally get more storage space and a fresher look than rooms that have been part of the ship since the vessel launched.
During Royal Caribbean's recent upgrades as part of the Royal Amplification, new staterooms have been added to ships in places that did not have cabins.  Sure, it adds a little more revenue for the cruise line, but it also offers new cabin choices for guests.
On my Freedom of the Seas cruise in 2021, I booked one of the new staterooms on deck 11, to the left of the Vitality Spa in the forward area of the ship. The nice thing about this location is it is directly adjacent to the Solarium, which makes it very convenient to get to your room from the pool deck.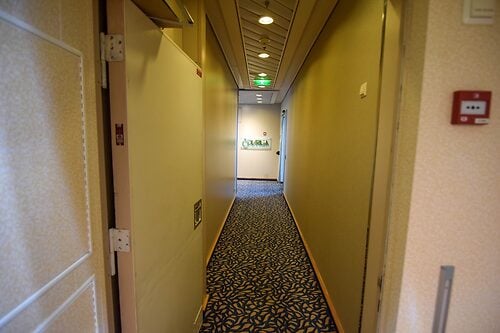 I stayed in stateroom 1152, which is a Category J3 Junior Suite which can accommodate up to 4 guests.
Despite the name "suite" in the room category, a Junior Suite is more like an extra large balcony than a true suite, but it does offer a lot more living space than you will get in a standard balcony room.
The stateroom measures 299 square feet of living space.
Walking into the room, you can quickly get a sense of the space and notice the fresh look the room has since it is new construction.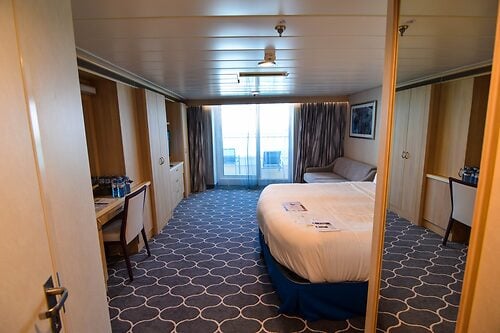 The first thing I noticed is just how much storage space there is in this cabin.
Like all Junior Suite rooms, there is a large closet where you can store clothes, hang up garments, and probably stash anything bulky.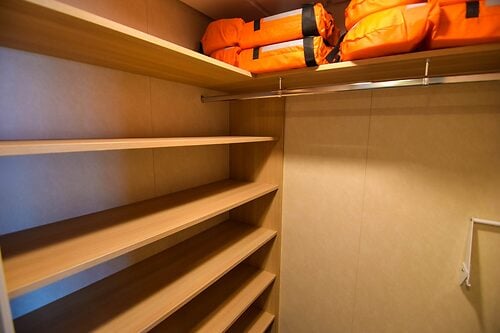 In addition to the closet, there is another full-size closet in the middle of the room, with drawers, dressers, and enough storage space for probably two weeks onboard.
I've noticed with Royal Caribbean's newer cruise ships much more storage space, and that trend has carried forward with its new construction cabins as well.
Another welcome trend is many more outlets, including USB outlets.  The desk area has both.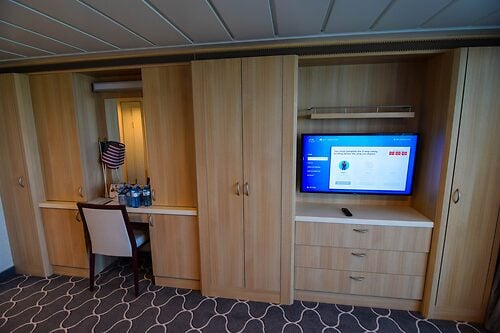 The bed is a Royal King, which could be converted into two twin beds if need be, along with a large sofa. 
According to Royal Caribbean the sofa can convert into a double bed, although I did not try it out.
Pro tip, there is a USB charger on the side of the phone next to the bed.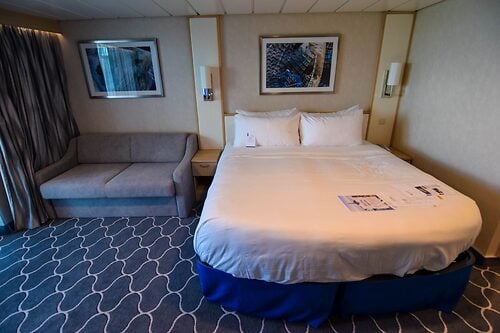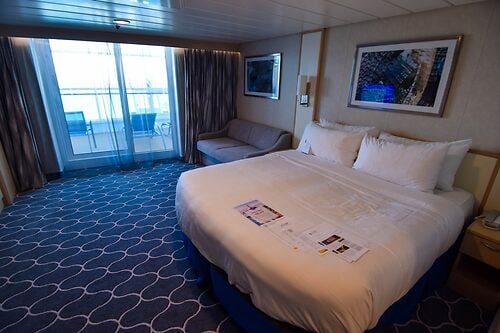 The bathroom looks similar to a balcony bathroom, although it has a full tub instead of a stand up shower.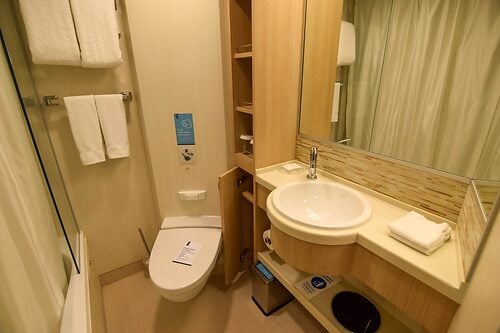 Being a Junior Suite, your balcony is also extra large and it has a nice enclosed space to enjoy.  I prefer this set up because it means there is shade on the balcony during certain times of the day.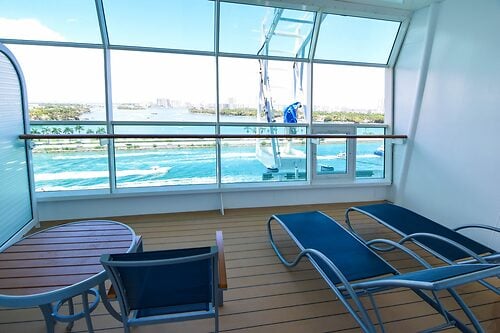 The balcony is indeed quite large, with enough space for two lounge chairs, a table, and two chairs. It measures 65 square feet.
You might notice the window washing equipment that was blocking part of the window.  This is a trade off of these new rooms being in a new location.  The washer unit is not always there, but it seemed to be stationed there when not in use.
Personally, I did not mind it since the balcony is wide enough to have most of it unobstructed, although I do not spend that much time on my balcony (especially on a short 3-night sailing).