In:
MSC Cruises revealed the design for its newest cruise ship that will be among the largest in the world, and there are a few design ideas that look eerily similar to Royal Caribbean's Oasis Class ships.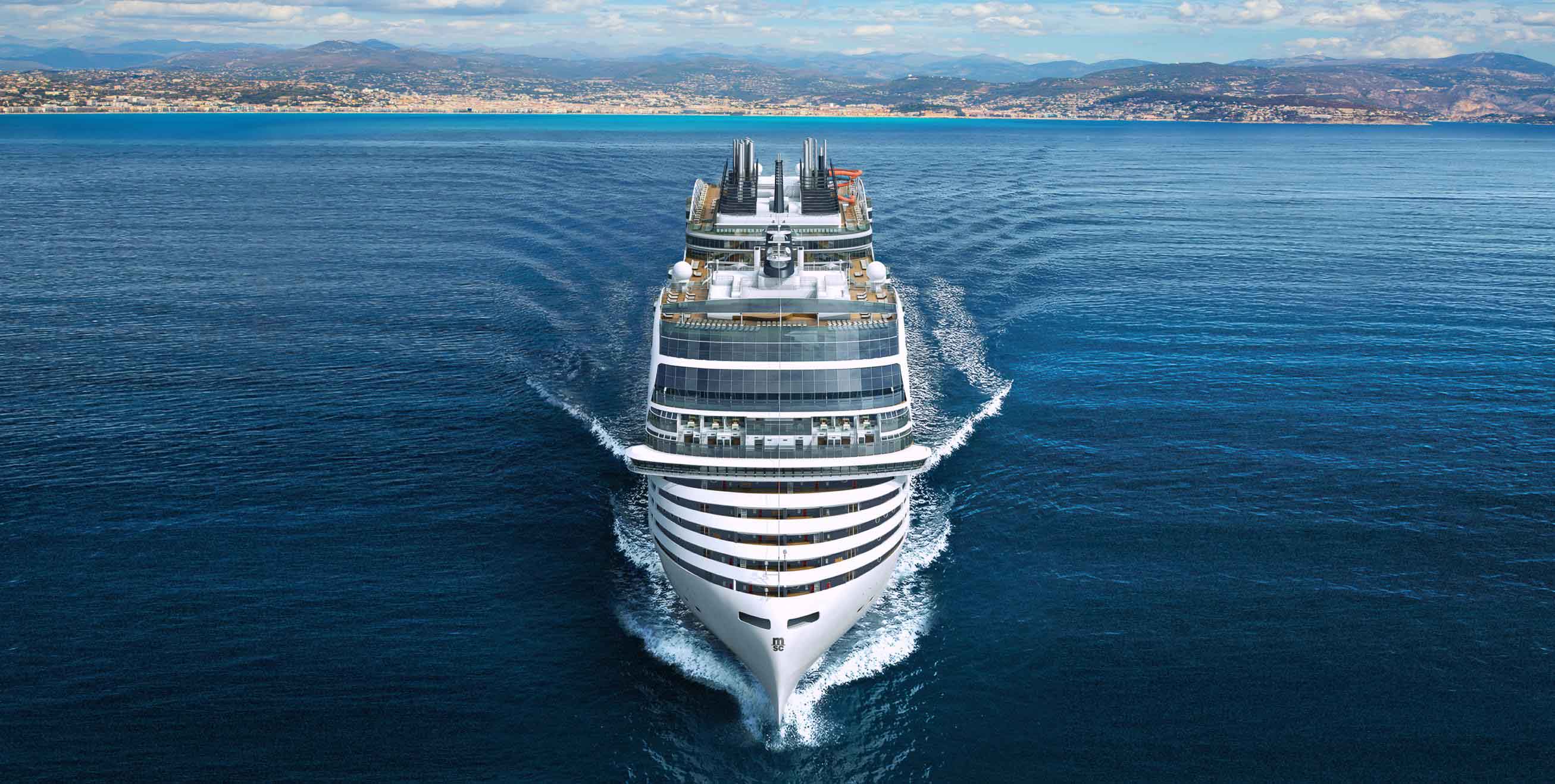 MSC World Europa will debut in late 2022 and is 22 decks high, and 1,093 feet long.  That makes it four decks taller than Symphony of the Seas, although Symphony is still longer at 1,184 ft 5.0 in.
The ship will be right around 205,000 tons, which is just a bit less than 228,081 GT of Symphony.
Cruise ship design is more of an evolution in the industry, with different ideas building on each other over time. With that being said, MSC certainly has "borrowed" a few ideas from the Oasis Class ships.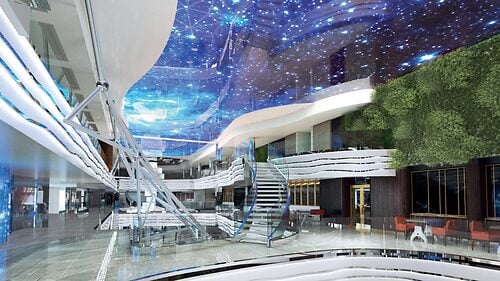 MSC Cruises announced the ship will be divided up into different areas of the ships, known as districts.  Royal Caribbean pioneered the idea of using neighborhoods to help break up the ship into easily navigated areas for passengers.
Just like the Oasis Class, there will be 7 zones.
Perhaps most noticeable is the promenade zone at the back of the ship opens up into a sky-covered area with a giant dry slide at the aft of the ship.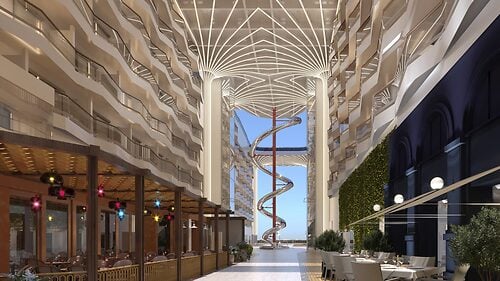 MSC World Europa design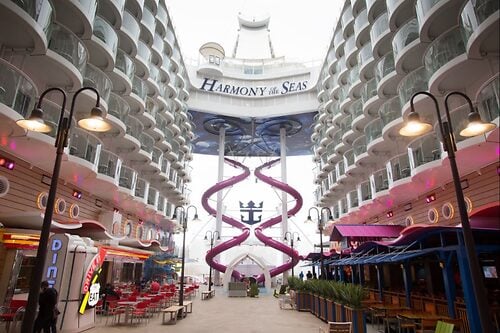 Oasis Class Boardwalk
The concept art for this aft area of the ship looks very similar to the Boardwalk neighborhood of the Oasis Class ships, with the dry slide idea coming from Royal Caribbean's Ultimate Abyss.
The dry slide on MSC will be 11 decks tall. The Ultimate Abyss on Royal Caribbean's ships is 10 decks high.
That will give MSC bragging rights for having the longest dry slide at sea.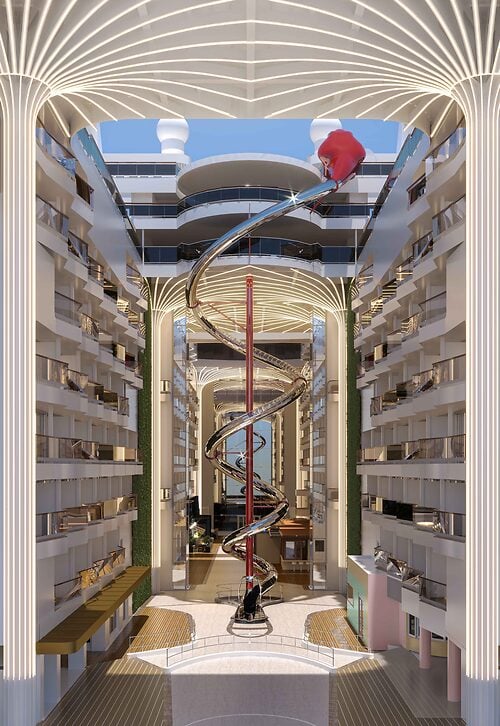 MSC World Europa dry slide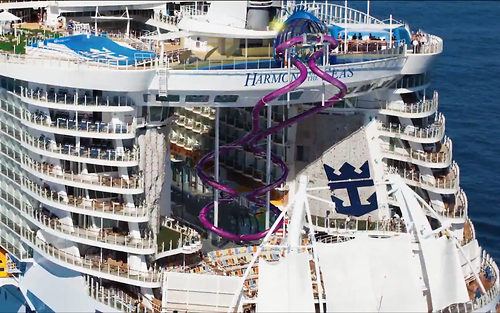 Ultimate Abyss on Harmony of the Seas
For what it is worth, Royal Caribbean trademarked the Oasis Class stern design in 2018.
In the trademark paperwork, Royal Caribbean made certain to specify some of the features that make this design unique.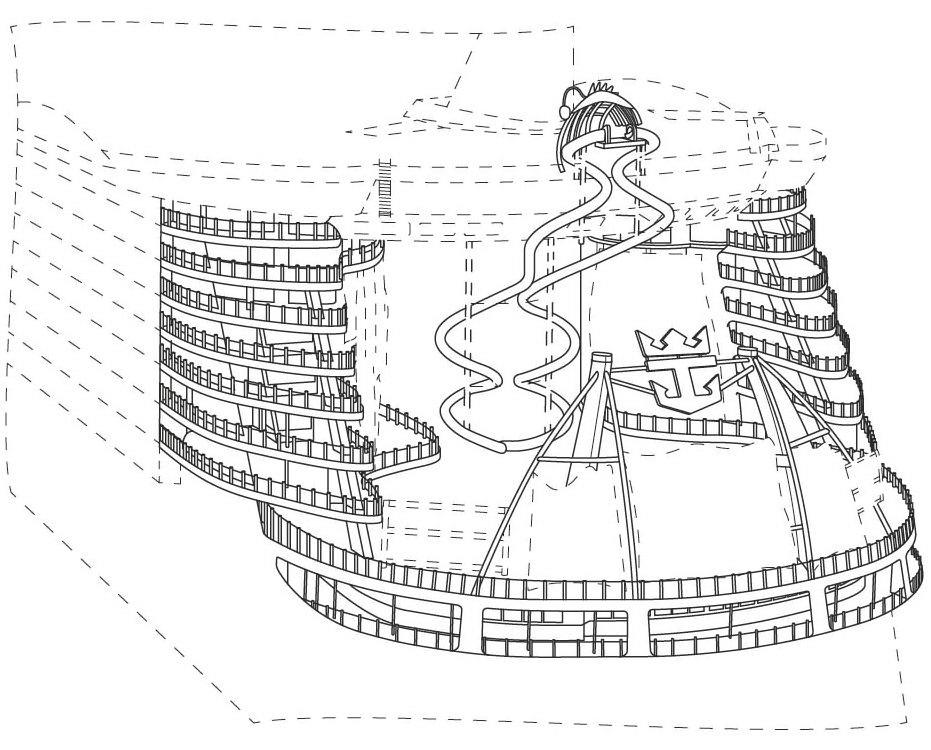 "The mark consists of the stern section of a cruise ship having a set of stylish oblong-shaped balconies on the left and right sides of the stern section, a pair of ornamental slides extending from the rear section of an decorative fish head to cascade downward to a lower deck of the cruise ship, and a pair of tusk-like structures extending upward from the top of a lower deck of the cruise ship, to a mid-deck level of the stern section, each tusk-like structure includes a set of stylish curved vertical beams intersecting near the top portion of the tusk-like structures, and an ornamental crown and anchor symbol suspended between the pair of tusk-like structures."
Another idea MSC is incorporating into its ships is an infinite ocean view cabin, which sounds a lot like the infinite verandahs on Celebrity Edge.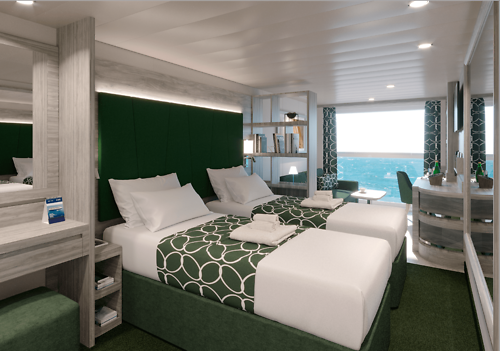 MSC Infinite Ocean view staterooms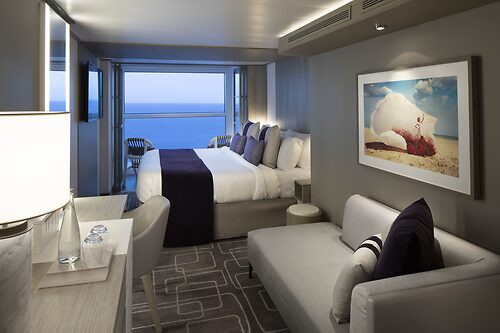 Celebrity Cruises Infinite Verandah
These rooms will have a panoramic sliding window that turns into a glass balustrade when open.
MSC World Europa will enter service in December 2022 and spend her inaugural season in the Persian Gulf. Her season will begin with a four-night sailing from Doha, Qatar to her homeport of Dubai, UAE.
The vessel will offer seven-night cruises from Dubai to Abu Dhabi, Sir Bani Yas Island, Dammam, and Doha, with an overnight back in Dubai to end the voyage.
On March 25, 2023, MSC World Europa will head to the Mediterranean, and in summer will offer seven-night cruises calling in Genoa, Naples, Messina, Valletta, Barcelona, and Marseille.
Copying is a cruise industry tradition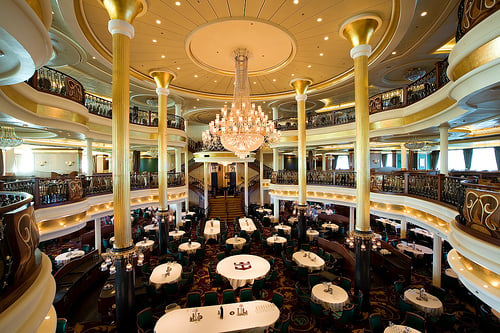 Before anyone gets too hot under the collar about the "inspiration" MSC has seemingly taken from Royal Caribbean, keep in mind that many ideas get borrowed from other lines.
When Norwegian Cruise Line came up with the idea of Freestyle Dining for its dining rooms, many cruise lines quickly adopted something similar. Royal Caribbean has My Time Dining as an option.
Royal Caribbean even admitted its idea for virtual balcony staterooms came from Disney Cruise Line's virtual portholes.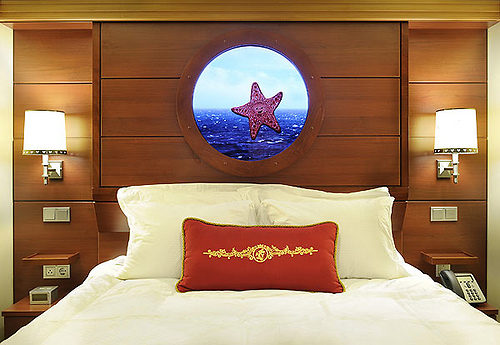 Royal Caribbean Group Chairman and CEO Richard Fain explained how his line took the idea and expanded upon it, "We actually had looked at the idea, and we didn't think that the technology and the receptivity from the public was there."
"Disney proved that the public does value something like this."
Read more: 4 Royal Caribbean features inspired by something else
There are plenty of other examples of cruise lines replicating other line's ideas, but you get the idea that this happens more often than you might think.