In:
Guests sailing on a Royal Caribbean cruise have a new option to consider when visiting the NextCruise office to book a future cruise.
In addition to the book now option, where guests book a specific sailing while in the NextCruise office, Royal Caribbean has added a Book Later option, where guests have up to two months to book their sailing.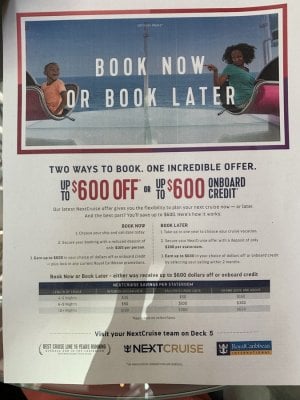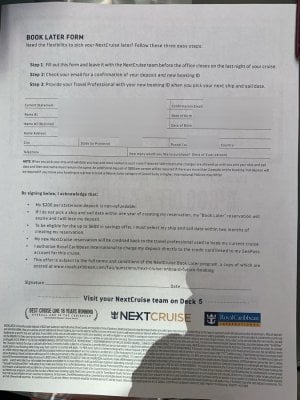 The idea behind this new option is to allow guests more time to consider different sailings while still retaining the same onboard booking bonus they would get by booking onboard.
Book Later requires a $200 non-refundable deposit per stateroom ($100 deposit per stateroom if picking a specific sailing onboard), and promises up to $600 onboard credit or instant savings by selecting a sailing within 2 months.
The Pay Later option deposit stipulates:
The $200 per stateroom deposit is non-refundable
If a guest does not pick a ship and sail date within one year of creating the reservation, the "Book Later" reservation will expire and the deposit will be list.
In order to get the up to $600 in savings offer, a sailing must be selected within two months of creating the reservation.
The Pay Later option is in addition to the Book Now option, which remains available for guests to book while in the NextCruise office.
Special thanks to Karen Fraser for alerting us to this new option.