In:
Royal Caribbean's newest cruise ship, Spectrum of the Seas, will have her conveyance down the River Ems on March 19, 2019 at 6:00pm.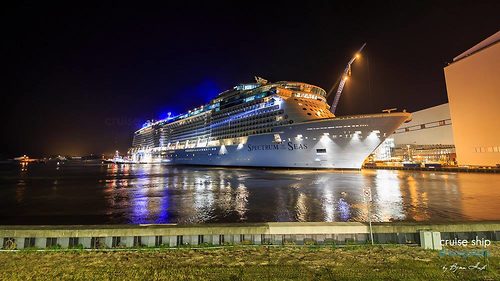 Photo by Björn Haß
Spectrum of the Seas, is expected to leave Papenburg on Tuesday, March 19 and be transported on the Ems River to Eemshaven (Netherlands). The arrival in Eemshaven is scheduled for Thursday, March 21. After technical and nautical trials, Spectrum of the Seas arrives later in Bremerhaven.
Spectrum of the Seas' conveyance will take the ship from Meyer Werft shipyard in Papenburg, Germany along the Ems River to the North Sea.
The conveyance is scheduled to being at 6:00pm local time with a tentative timetable, which can be postponed due to weather or tide conditions:
Tuesday, March 19, 2019
approx. 6:30 pm Ship in waiting position (Papenburg) 
approx. 7:00 pm Passing the Dockschleuse (Papenburg)
Wednesday, March 20, 2019
approx. 01:30 am Passing the Weener Bridge (Weener) 
approx. 06:00 am Passing the Jann-Berghaus-Brücke (Leer) 
approx. 10:15 am Arrival Emsperrwerk (Gandersum) 
approx. 11: 45 am passing Emsperrwerk 
about 1:15 pm passing Emden
All information is subject to the wind and weather conditions, the water levels and thus without guarantee. Time shifts are possible at short notice!
The river conveyance is necessary because the Meyer Werft shipyard is located inland to avoid the North Sea's unpredicatability.