In:
Royal Caribbean is offering 60% off second guest, plus bonus onboard credit on cruises booked this weekend.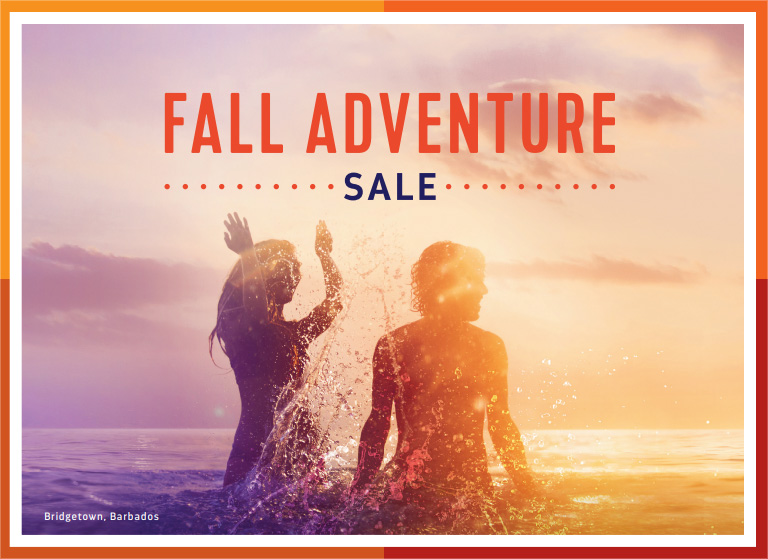 The Fall Adventure Sale is valid on cruises booked between 11/8/18 – 11/13/18 on sailings departing on or after 12/8/18.
BOGO Offer
 60% off cruise fare of second guest booked in the same stateroom as first full-fare paying guest. 
30% off cruise fare for third guests and higher booked in the same stateroom as the first two qualified guests.
Kids Sail Free
Kids Sail Free provides free cruise fare for 3rd guests and higher who are 12 years old or younger on 4 nights or longer Alaska, Bahamas,Bermuda, Canada, Caribbean, CaribNE,
Coastal, Cuba, Europe and Hawaii sailings departing between 12/1/18 – 12/14/19.
Offer excludes Holiday sailings (Sailings between 12/18/18 – 1/1/19), President's Day sailings (Sailings between 2/15/19 – 2/18/19), Spring Break sailings (Sailingsbetween 3/16/19 – 3/30/19), Holy Week/Easter sailings (Sailings between 4/13/19 – 4/22/19), Summer sailings (Sailings between5/15/19 – 8/31/19) and 2019Thanksgiving sailings (Sailings between 11/23/19 – 11/30/19).
Kids Sail Free is not combinable with Deck the Holidays Deals.
Fall Adventure Sale
Up to $100 to spend at sea per stateroom determined by category booked and sailing length:
On sailings 5 nights or less, $25 OBC for Interiorand Ocean View, $50 for Balconies and $75 for Suites
On sailing 6 nights or longer, $50 OBC for Interior and Ocean View, $75 for Balconies and $100 for Suites.
Refer to www.RoyalCaribbean.com for complete terms and conditions.
Offer open to residents of US, Canada, Puerto Rico and select countries inthe Caribbean.