In:
Royal Caribbean is celebrating the 10th anniversary of its most popular sale, the WOW Sale, with another WOW sale!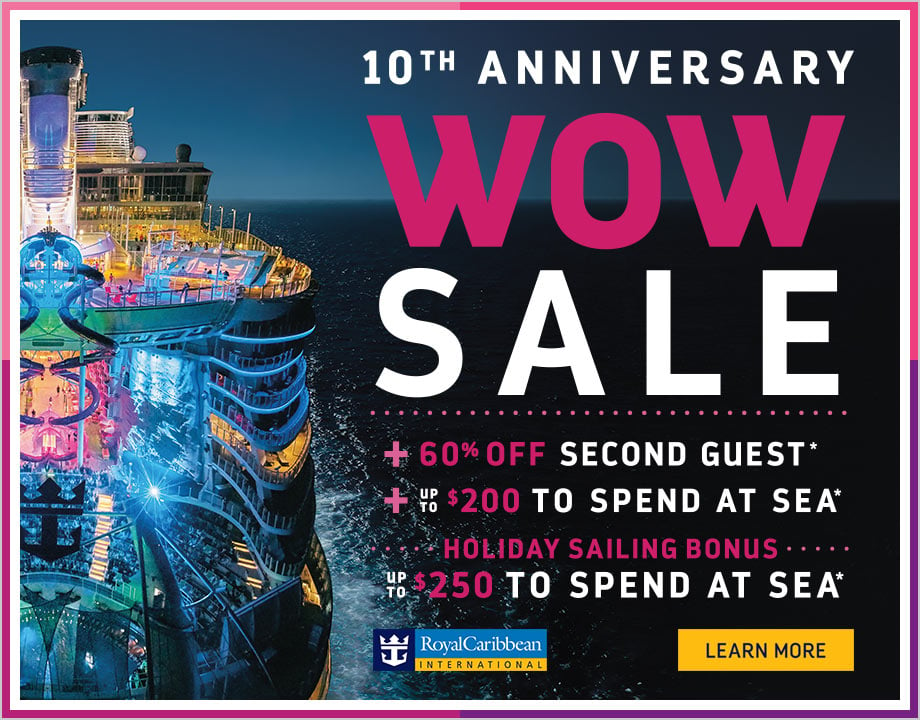 Guests that book a Royal Caribbean cruise between June 14-16, 2017 on sailings departing on or after July 14, 2017 (excluding China departures) are eligible for the WOW sale.  
The WOW Sale includes:
60% off second passenger
Onboard Credit
WOW Sale includes up to $200 onboard credit:
$50 for 5 nights or less
$100 for 6-9 nights
$200 for 10-nights and longer
Sailings departing between 12/19/17 - 12/31/17 and 12/18/18 - 12/31/18 qualify for additional onboard credit:
$75 total OBC for 3-5 Nights
$150 total OBC for 6-9 nights
$250 total OBC for 10 nights and longer
50% Reduced Deposit
Kids Sail Free
Kids Sail Free offer provides free cruise fare of third and higher guests who are 12 years or younger as of cruise departure date, booked in the same stateroom as the first two qualifying guests in a triple or quad occupancy stateroom on 5 nights or longer Bahamas and Caribbean sailings departing Sep. 1, 2017-May 31, 2018, excluding sailings departing 11/17/17-11/27/17, 12/17/17 – 1/8/18, 2/15/18-2/20/18 and 3/10/18-4/1/18.
All other charges, including, but not limited to, taxes, fees and port expenses, are additional and apply to all guests.
WOW Sale is combinable with BOGO60, 30% Savings for 3rd and 4th guests, Kids Sail Free, standard/full fare and Next Cruise offers. WOW Sale is not combinable with restricted rates (for example, Seniors, Residents, Military, etc.) Crown & Anchor discounts, Shareholder Benefits or Loyal to Royal Sales. All offers are not combinable with any other offer or promotion, including, but not limited to, Standard Group, Interline, Travel Agent, Travel Agent Friends and Family, Weekly Sales Events, and Net Rates. WOW Sale is valid for Cruisetour package. Bookings with a Cruisetour package will receive an OBC based on the combined length of the cruise and Cruisetour component
Offer available to residents of United States and Canada.