In:
Families going on Royal Caribbean's Harmony of the Seas are certain to spend a lot of time at the pool deck and very likely taking multiple rides down the water slides.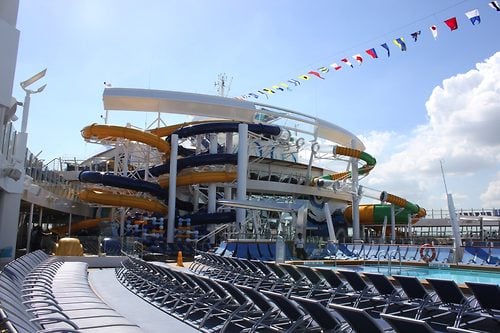 Dubbed, "The Perfect Storm", these three water slides provide plenty of fun and thrills during any Harmony of the Seas cruise. If you want to ensure you get as many rides in and go as fast as possible, follow these tips for getting the most out of the Harmony of the Seas water slides.
1. Ride when the lines are the shortest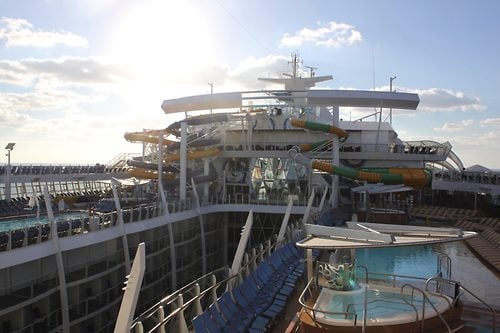 Waiting in line is never fun, but the popularity of the Harmony of the Seas water slides may leave much choice.  It is important to note that the shortest lines for the water slides will occur at two times of the day.
Check the Cruise Compass for exact times of operation, but try to ride the water slides in the morning when they first open and/or in the evening when many guests are having dinner.
Both of these times will result in much shorter lines.  The late-morning and afternoon are the peak times for the water slides, so expect a longer wait if you want to ride during those times.
2. The secret to going fast(er)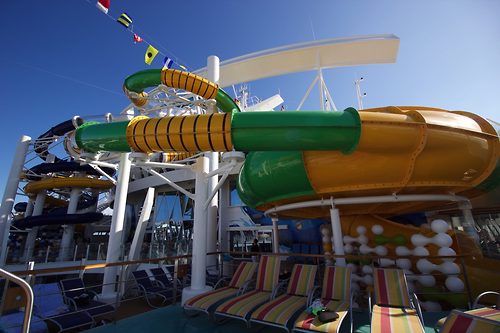 If you have a need for speed, the key is to wear as little clothing as possible.
The more clothing you wear, the more friction between you and the slide.  Rash guards, t-shirts and "ornate" bathing suits are all the kind of swim wear that will slow you down.
Fashion opinions aside, Speedo swimsuits for men are the ideal bathing suit for attaining top speed on Harmony's slides.
3. Cross your legs and arms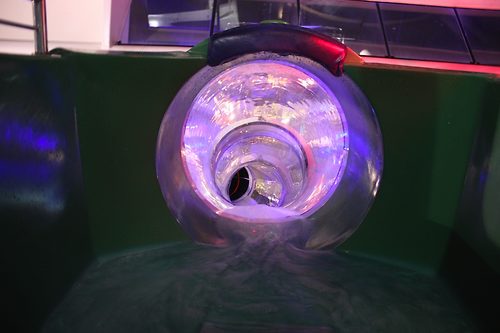 Speaking of going fast, regardless of what you wear on the slide, be sure to cross your arms and and legs to get maximum velocity.
The physics of the slide favor those that reduce their body's drag against the slide, and the crossing one's legs and arms will ensure the best overall experience from start to finish.
4. Try all 3 water slides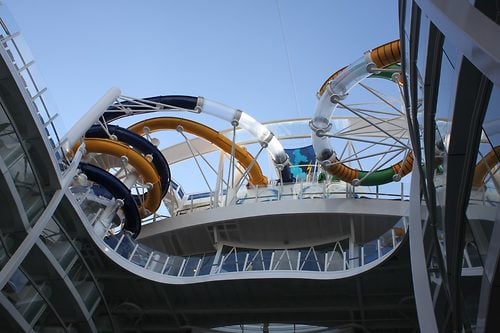 There are three water slides on Harmony of the Seas, and it is absolutely worth your time to try all three.
There are two racer slides and a champagne bowl slide.  Each slide differs from the others, so be sure to try them all.  
5. Blue racer slide seems faster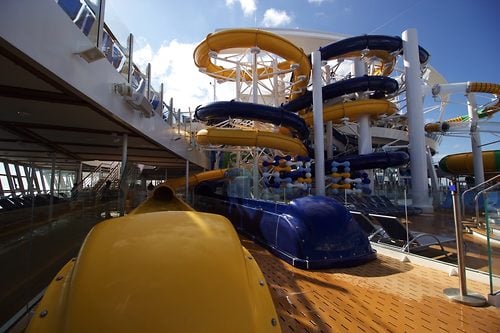 Speaking of trying them all, between the two racer slides, many guests we spoke to reported the blue slide is a bit faster ride down than the yellow slide.  
It is hard to quantify in written form, but see if you agree about the blue versus yellow slide's intensity.
Do you have a tip for anyone riding the Harmony of the Seas water slides? Share them in the comments below!