In:
If you are new to cruising, or just new to Royal Caribbean, you might have heard about one particular ship in Royal Caribbean's fleet that is getting a lot of attention but were not sure why.  This post is intended for people like you.
Alternatively, this might be a post you share with someone that you want to go on Harmony of the Seas, but need to explain the significance of this ship.
In short, this post is a primer for what Harmony of the Seas so darn intriguing and a compelling cruise ship to book.
It's big (like, really big)
Royal Caribbean has a well-deserved reputation for building large cruise ships in the industry, and Harmony of the Seas follows that tradition by being the largest passenger cruise ship in the world.
Harmony of the Seas first debuted in May 2016, and she is 226,963 gross tons in size.  How big is that, exactly?  If she were to be stood upright, she would be 361 meters tall.  The Eiffel Tower is 324 meters tall and Big Ben is only 96 meters tall.
Harmony of the Seas can handle 5,497 guests at double occupancy, is 66.4 meters wide and has 2,747 staterooms.  
While this size sounds impressive, what it means for guests is there is plenty of space onboard for Royal Caribbean to offer some truely unqiue and fun activities.  Harmony of the Seas is the kind of ship that was designed to be a destination in of itself, with lots to see and do onboard.
Being onboard Harmony of the Seas, it feels less like a boat and more like a city, with different neighborhoods and things to do throughout the day.
First rate shows
Royal Caribbean prides itself on the entertainment it offers onboard its ships, and Harmony of the Seas offers guests brand new shows that are great performances.
First and foremost, guests can see the classic Broadway show, Grease, onboard Harmony of the Seas. Admission to Grease (and all shows) is included in your cruise fare.  This fun love story features a soundtrack of crowd favorites such as "Summer Nights," "Greased Lightnin'," "Look at Me, I'm Sandra Dee," "Born to Hand-Jive," "Beauty School Dropout" and more.
Royal Caribbean also developed its own musical, Columbus, The Musical!.  This production created in the spirit of "Spamalot" and "Something Rotten," recounts the imagined history of Marvin Columbus, Christopher's fictional, down on his luck, distant cousin. Combining smart, nuanced humor and breathtaking set design, Columbus is the kind of family show you will really love to see.
Harmony of the Seas is an Oasis-class ship, which means it features at the aft of the ship an open-air ampitheater with a large pool in the center, known as the AquaTheater.  The Aquatheater has two 10-meter high platforms and a hydraulic-floored pool, the largest and deepest freshwater pool at sea. 
There are two different shows to see in the AquaTheater. The Fine Line is a 360° immersive entertainment show, revelers will be wishing for eyes in the back of their head to take in all the action happening around them. Hideaway Heist is a new comedy dive show, that jumps into the world of the 1950's holiday resort and tells the story of a detective pursuing a crafty burglar.
You might be thinking just these shows are enough to impress you, but there is much more enteratinment onboard. There are two ice skating shows, held in the ship's indoor ice skating rink; An escape room experience, where guests try to solve a riddle by deciphering the clues in the room before time runs out; Special dance parties throughout the cruise and much more.
Slides!
If you prefer to spend time onboard getting your adrenaline going, try one of the many slides available.  Royal Caribbean's addition of water and dry slides to Harmony of the Seas is a big deal, because Royal Caribbean never really did slides before this ship.  With this ship, there are plenty to choose from and that means fun for the entire family.
Beginning with the water slides, Royal Caribbean added what it calls, "The Perfect Storm" water slides in the center of the ship.  These are three slides that twist and turn down to the pool decks below.  One slide features a champagne bowl that swirls riders around as they approach the end of the slide.  The other two water slides are racing slides that are meant to see just how fast guests can rocket to the bottom.
Families with younger children will love the new aquatic adventure park, known as Splashaway Bay. This play area features slides, water cannons, waterfalls and more for kids to run around and enjoy to their heart's content. Royal Caribbean describes Splashaway Bay as, "a vibrant waterscape for kids and toddlers with sea creature water cannons, winding slides, a gigantic drench bucket and a multi-platform jungle-gym to keep everyone entertained for hours."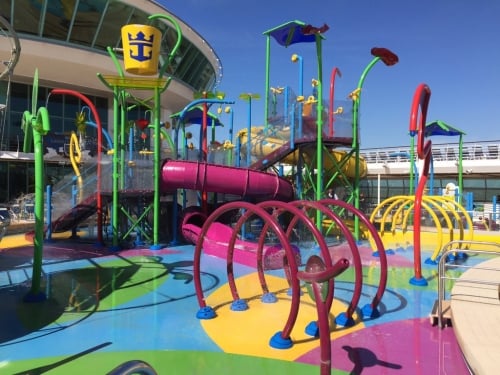 There is still one more thrill ride on Harmony of the Seas that anyone with the courage to do can try, the Ultimate Abyss.  
The Ultimate Abyss is a 10-story dry slide that is the tallest slide at sea and a the biggest thrill ride to date for Royal Caribbean. The Ultimate Abyss is more than 150 feet above sea level and offers side-by-side slides that send guests down 10 decks at a rate of 9 miles per hour.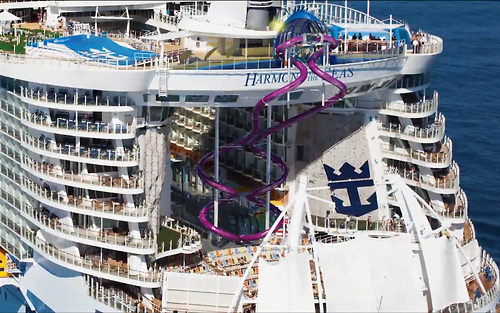 Launching onto the ride from a glass platform, guests climb onto a customized mat and then descend into a tunnel filled with spontaneous audio effects that create a multi-sensory thrill.
Lots and lots of dining
When Royal Caribbean built its first Oasis class ship, Oasis of the Seas, the cruise line re-defined how many dining options could be offered on a Royal Caribbean ship.  Harmony of the Seas continues in that vein, with a wide assortment of dining options that are sure to please everyone.
Harmony of the Seas dining options are a mix of complimentary and specialty restaurants.  Complimentary restaurants are included in your cruise fare, while specialty restaurants have an additional cost to them.  It is at your discretion if you choose to dine at a specialty restaurant, but there are lots of choices across many different price points.  All of the dining options offer very delicious food that you are certain to enjoy quite a bit.
At the heart of the complimentary dining is the beautiful main dining room.  Guests on Harmony of the Seas can dine here each evening with the elegance and traditionalism that the cruise industry wass built on.  Each evening there is a different menu, with creative, classic and contemporary choices to enjoy.
All around Harmony of the Seas are a number of complimentary eateries that offer grab-and-go options and sit down choices.  Park Cafe is home to the famous Kummelweck sandwich, and the Windjammer buffet is where you can go to get pretty much everything.
If you want to try a specialty restaurant (or four), there are so many great choices.  Harmony of the Seas features two specialty restaurants that are new to the Oasis-class.  Jamie's Italian is the creation of celebrity chef Jamie Oliver, which features rustic Italian dishes made from seasonal ingredients and tried and true recipes.  Wonderland is an imaginative take on specialty dining, where the experience is just as important as the food offered. While Wonderland is on a few other Quantum-class ships, on Harmony of the Seas, this is the first two-story Wonderland restaurant in the fleet.
There is also Johnny Rockets, a 1950's inspired diner that serves up burgers, hot dogs and milk shakes; Chops Grille, the high-quality steakhouse that offers dry-aged steaks in addition to its menu of quality cuts of meat; Sabor Tacqueria & Tequila Bar offers some of the best Mexican food we have ever had, with favorites like tacos, quesadillas and margaritas, as well as contemporary Mexican dishes; Izumi Hibachi and Sushi offers fresh and flavorful Japanese cuisine, including teppan-style dining.
In short, there is a lot of dining choices on Harmony of the Seas, and that means you have a large variety of choices available for you to choose from.