In:
In case you were not aware, today is National Coffee Day.  And we all know that java lovers do not check their passion for this magical elixir when they step foot aboard a Royal Caribbean cruise.
Whether it is National Coffee Day or not, here are six places on Royal Caribbean ships to get your favorite coffee beverage.
Complimentary Coffee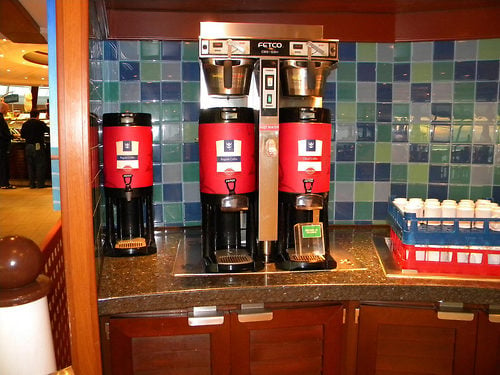 On Royal Caribbean ships, guests can enjoy unlimited complimentary coffee during their cruise.  Guests can find complimentary coffee available at a number of locations throughout the ship.
In most cases, the complimentary coffee is either Seattle's Best or Illy's brand.
Where one will find complimentary coffee will depend on the exact ship you are on, but here are a few popular and easy-to-get-to locations for the free stuff.
Cafe Promenade
Café Latté-tudes
Main dining room
Windjammer
Room service
Park Cafe
Premium Coffee
Starbucks
Did you know Royal Caribbean ships serve Starbucks beverages? Both companies have teamed up to give Royal Caribbean guests some of the best coffee available and here is what you need to know to enjoy a cup of your favorite latte, frappuccino or dark roast.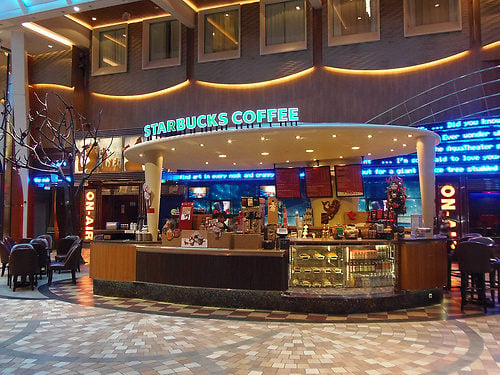 Royal Caribbean has stand alone Starbucks kiosks on Oasis of the Seas, Harmony of the Seas and Allure of the Seas.
In fact, the Starbucks location on Harmony of the Seas features more of a store than the Royal Promenade kiosk found on the other Oasis-class ships.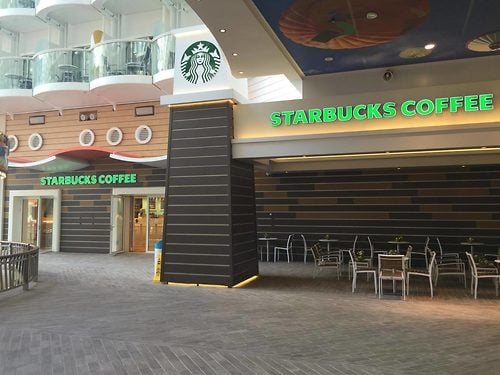 Unlike on other ships, guests on Oasis-class ships are able to use Starbucks gift cards for payment.
Cafe Promenade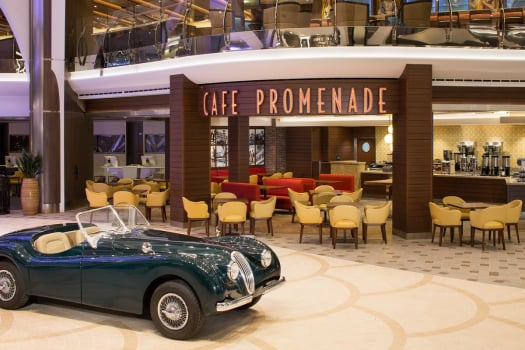 Any Royal Caribbean ship with a Royal Promenade has a dedicate location for coffee, tea, pastries and other light snacks known as Cafe Promenade.
The coffees found on Royal Promenade are a combination of complimentary coffee and premium coffee.  Often, the premium coffee consists of Starbucks brewed coffee beverages.
Ships with a Cafe Promenade include Voyager, Freedom and Oasis-class ships.
Café Latté-tudes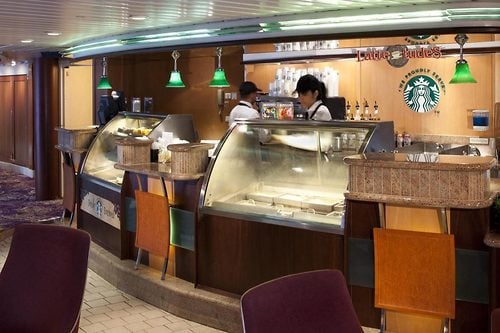 The Café Latté-tudes coffee bar serves up fresh brewed coffee, lattes and more throughout the day.
Much like Cafe Promenade, Café Latté-tudes serves complimentary coffee, along with specialty coffee drinks, lattes, cappuccino and espresso for a nominal fee.  There are also assorted pastries and cookies available to go along with your coffee.
Ships with Café Latté-tudes include Vision and Radiance-class ships and Majesty of the Seas.
La Patisserie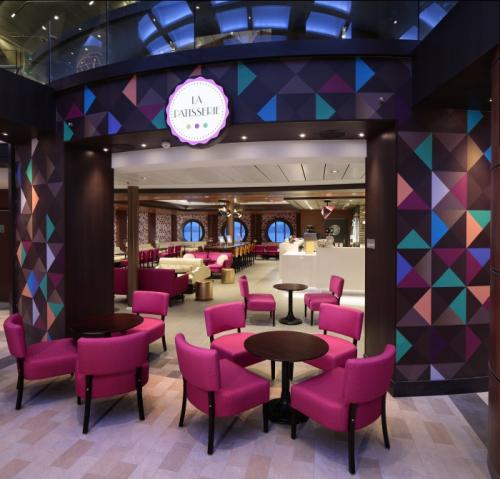 La Patisserie is a café-style dining option and the perfect place to grab a cup of joe on the Royal Esplanade.
There are some similarities to Cafe Promenade, but La Patisserie has a more colorful look, and tends to have more of a coffee-house vibe than Cafe Promenade.
La Patisserie is found on Quantum-class ships.
Park Cafe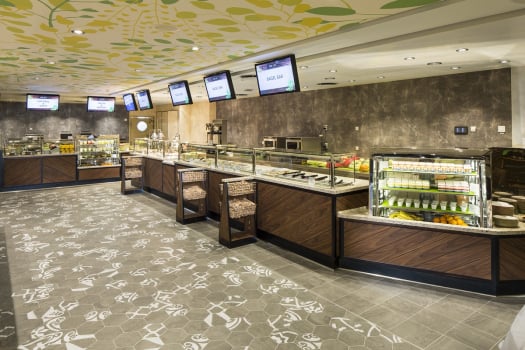 Royal Caribbean's Oasis-class ships offer a lot to guests, including a fan-favorite spot for meals and a quick coffee, Park Cafe.
Besides the great coffee available at Park Cafe, you have the option of enjoying it in Central Park, among the lush surroundings that make this neighborhood so appealing.  It is such a pleasure to enjoy your cup of coffee with a good book and views of the flora that surrounds you.
Park Cafe offers complimentary and premium coffee on Oasis-class ships.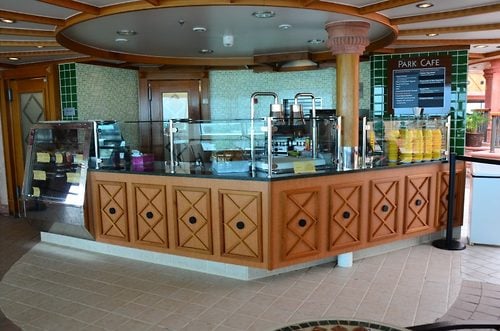 On other ships, Park Cafe can also be found on the pool deck in a smaller location.  While these options may lack the Central Park view, they still serve up great coffee throughout the day.
Cafe @ Two70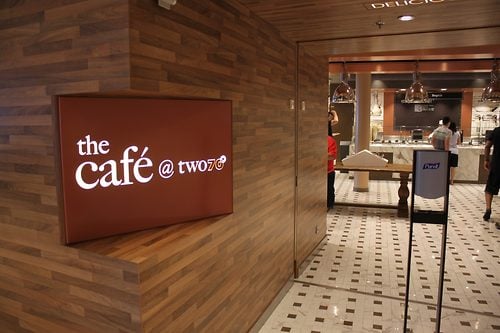 Somewhat similar to Park Cafe in offerings, Cafe @ Two70 is a more modern looking cafe that has a wide selection of food to compliment its complimentary and premium coffees.
As the name implies, Cafe @ Two70 is located adjacent to Two70 and makes it easy to grab your cup of joe and bring it next door to enjoy with a fantastic aft view of the ship.
Cafe @ Two70 is found on Quantum-class ships.
What is your favorite spot to get coffee on a Royal Caribbean cruise? Tell us in the comments below!