In:
Following its success in Hong Kong last year, Royal Caribbean is bringing its brand new Ovation of the Seas to Hong Kong in November 2016. This will be the first time that Royal Caribbean will have two ships deployed in Hong Kong.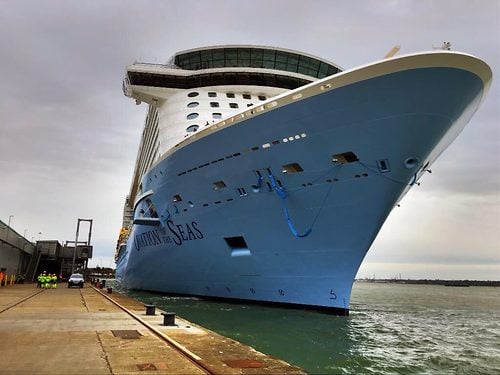 Dr. Zinan Liu, President, North APAC & China of Royal Caribbean International said, "We are so confident in the Hong Kong cruise market we decided to extend the homeport season of Voyager of the Seas from three months to over four months, and in addition bring our newest ship,Ovation of the Seas, here by the end of this year. Having two ships here will enable us to increase our programme in Hong Kong from 20 to 30 sailings . This means we could be welcoming over 100,000 vacationers this year which is about a 65% increase compared to last year."
Hong Kong
Ovation of the Seas is the third addition to the Quantum class ships, and is a sister ship to Quantum of the Seas that visited Hong Kong last year. Built by Meyer Werft in Germany at a cost of USD 1 billion, the 168,666 tons vessel has 2,090 staterooms for up to 4,180 guests and will be the largest cruise liner ever to be based in Hong Kong.
Ovation of the Seas will depart from Southampton, England on her 53-day "Global Odyssey" cruise to Tianjin, China on 3rd of May. She will then have a season in Tianjin in June before coming to Hong Kong in November.
Authentic Cantonese delicacies on board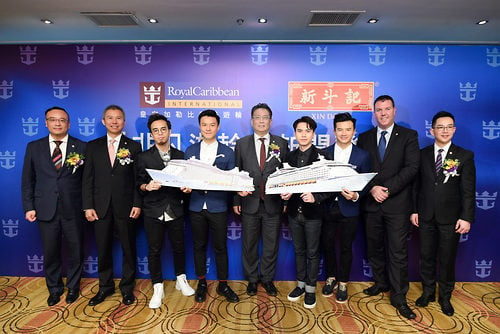 For the first-time-ever, Royal Caribbean is partnering on board with the award-winning Cantonese culinary experts, Xin Dau Ji, to provide over 20 exquisite signature dishes, including fried scallops, fish fillets with corn, steamed chicken in Lotus leaves, pan-fried fresh shrimp and more.
Balwin Yeung, Director of Sales & Marketing of Royal Caribbean Cruises Hong Kong Ltd. said, "Hong Kong vacationers expect the very best at this level of cruising which is why we have invited Xin Dau Ji to answer their culinary desires, especially their craving for truly authentic Chinese cuisine. Both Royal Caribbean and Xin Dau Ji are noted for their innovative approaches and share the same target group of customers in middle-class families. With these values in common and a similar customer base we should be perfect partners, in achieving a win-win collaboration."
To ensure guests can enjoy the perfect meal with their friends, Voyager of the Seas has also introduced the all-new "E-sea dining" seat arrangement for on board restaurants. Guests can get seats with companions when they come to the restaurant instead of only getting a designated table. The main menu has also been upgraded to Quantum Class, and redesigned to a picture-oriented menu for more appealing reading.
C AllStar
In another breakthrough, Royal Caribbean has announced its collaboration with the popular young boy band, C AllStar to entertain travellers on board. It will be the first theme-cruise of Royal Caribbean's new Hong Kong homeport season.
The positive image and the energetic charisma of C AllStar matches perfectly with the vitality of Royal Caribbean's brand image. The inspiring story of the young band represents the spirit of diligence and perseverance of Hong Kongers, which also symbolizes Royal Caribbean International's determination to stay in Hong Kong and their vision to "Cruise Extraordinary".