In:
Royal Caribbean's Harmony of the Seas cruise ship will offer guests the opportunity to see the Broadway show, "Grease."
Royal Caribbean Productions web site listed Grease as a show it is holding auditions for, thus confirming which Broadway show guests can enjoy onboard this new ship.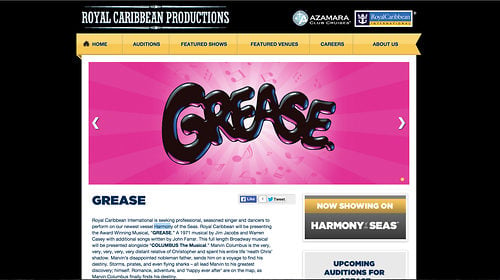 Royal Caribbean has been lead the way in the cruise industry by bringing Broadway shows to its ships. Five  other major Broadway musicals have debuted on Royal Caribbean ships since 2009: Hairspray, Chicago: The Musical, Saturday Night Fever , CATS & MAMMA MIA!.
Grease is a 1971 musical by Jim Jacobs and Warren Casey with additional songs written by John Farrar.
In addition, Grease will also be presented alongside "COLUMBUS The Musical."
Marvin Columbus is the very, very, very, very, very distant relative of Christopher and spent his entire life 'neath Chris' shadow. Marvin's disappointed nobleman father, sends him on a voyage to find his destiny. Storms, pirates, and even flying sharks – all lead Marvin to his greatest discovery; himself. Romance, adventure, and 'happy ever after' are on the map, as Marvin Columbus finally finds his destiny.
Harmony of the Seas will be Royal Caribbean's third Oasis-class ship, which debuts in Spring 2016.