In:
Many of our blog readers are big fans of Royal Caribbean's Enchantment of the Seas.  She has garnered the admiration of many over the years, offering a lot in a small size.
Here are some quick facts about Enchantment of the Seas that you might not have know about!
1. Enchantment of the Seas has been stretched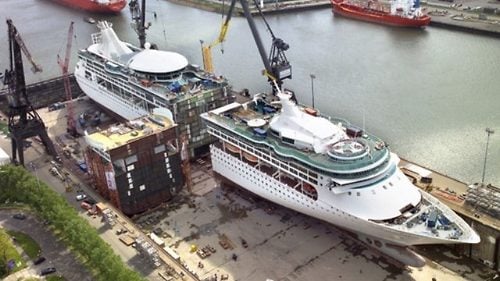 Enchantment of the Seas is a different sized ship today than she was when she was launched.
As part of a ship-wide revitalization, in 2005 the Vision-class ship was cut in half and then expanded with a new 73-foot section and then put back together.
This "stretching" has given Enchantment of the Seas an unique distinction for being a different size than her other Vision-class sister ships.
2. Her Godmother is Colleen Fain
When Royal Caribbean builds a cruise ship, they will choose a godmother and often that will be celebrity but for Enchantment of the Seas, Royal Caribbean decided to keep the honor in the family. Literally.
The ship's "godmother" is Colleen Fain, the wife of Royal Caribbean Ltd Chairman Richard Fain.
Mrs. Fain's duties as godmother included giving the vessel its name during the Southampton ceremonies when she released a giant 46-liter bottle of Taittinger champagne to break against the ship's bow, officially proclaiming the ship's name to be Enchantment of the Seas and wished safe journeys to all of its passengers and crew.
3. There is a bar over the ocean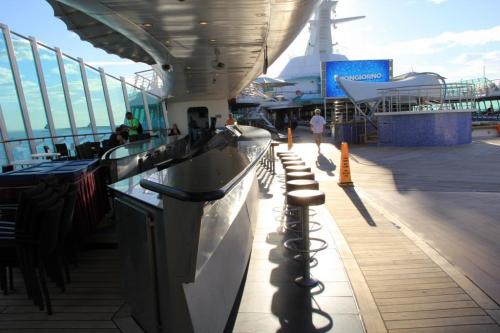 Enchantment of the Seas has one pool bar that actually juts out over the ocean.
The Oasis pool bar features a glass floor that gives passengers a view of the ocean below them as they enjoy their drinks.
Talk about a bar with a view!