In:
Let me be blunt: I love desserts. And I believe I am not the only one!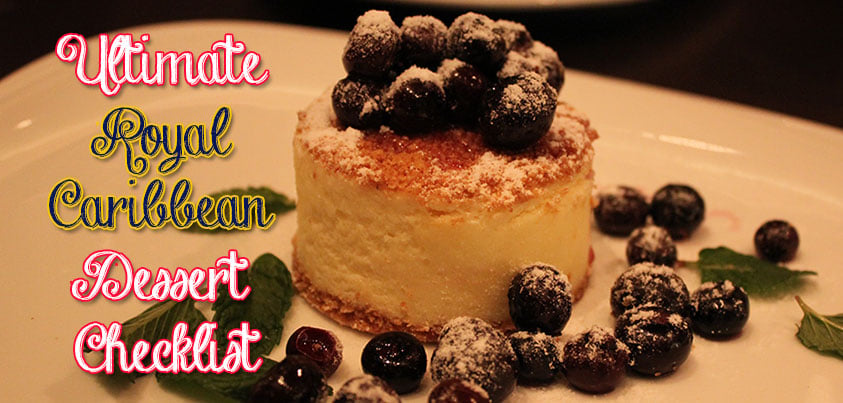 Desserts are that indulgent and savory part of any meal, where we forget about life for a few minutes and enjoy the sweet taste of a pastry, baked good or frozen treat.  Royal Caribbean has its fair share of desserts that guests may sample across the ships in the fleet but we wanted to seek out the best desserts in our quest to find the ultimate Royal Caribbean desserts!
After carefully considering all of our options (and saving room for dessert), here are the desserts we absolutely cannot get enough of (despite what our doctors recommend).  Enjoy!
Ben & Jerry's Ice Cream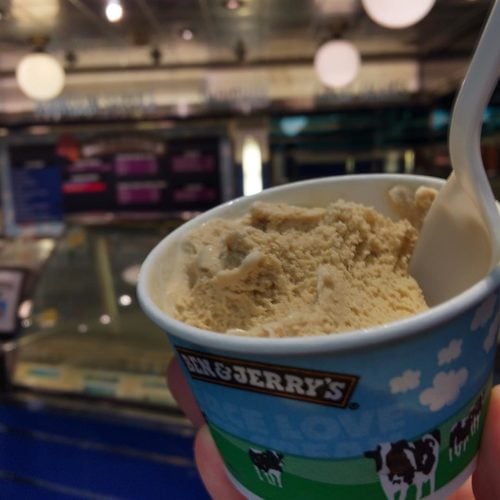 Ever since Royal Caribbean partnered with Ben & Jerry to bring premium ice cream to their cruise ships, this has been the spot onboard to get your ice cream fix.
It does not matter which flavor of ice cream hits the spot for you, the thing is, Ben & Jerry's ice cream shop has been a favorite spot to stop in for a treat.
And have you ever walked by Ben & Jerry's while they are making waffle cones? Not sure if it should be a crime to allow that kind of a smell out into the open or if the real crime is not stopping in to get one.
Whether you stop at Ben & Jerry's as a post-meal dessert or you just need a little ice cream break in your day, no Royal Caribbean cruise is complete without at least one ice cream cone!
Red velvet cake from Chops Grille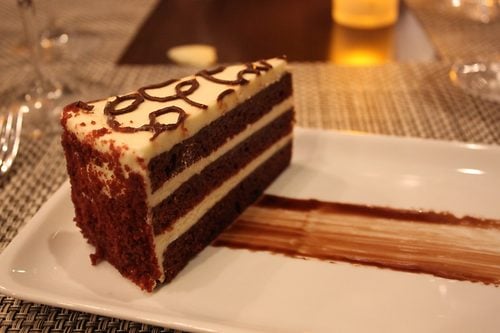 Chops Grille has become Royal Caribbean's signature specialty restaurant and guests have been flocking to this restaurant for years now.  Sure the steak is really, really, really good but have you ever had the red velvet cake?
Maybe it is the generous serving size or maybe it is the red velvet flavor, but this cake is so good that it cannot be left uneaten.  Trust us, we have tried to resist but it is futile.
The red velvet cake has been a staple of the Chops Grille menu for some time and while it seems like it may have changed a bit over the years, it remains a top dessert pick!
Huckleberry cheesecake form Chops Grille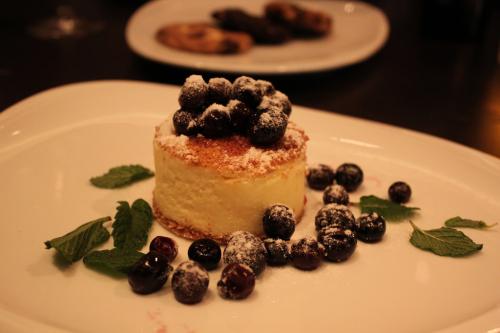 Yet another dessert from Chops Grille makes our list and this one is relatively new to Royal Caribbean.
When Royal Caribbean revamped Chops Grille's menu in 2014, a new dessert was added, the huckleberry cheesecake.  
I will be honest, I had never had huckleberries before and the name conjured up imagery from the famous Mark Twain character.  Nonetheless, our waiters have been recommending the huckleberry cheesecake ever since.
You get cheesecake with huckleberries adorned on top and the combination is simply perfection!  There is something about the tartness of the berries combined with the richness of the cake and it just equals yum.
Chocolate banana empanadas from Sabor Modern Mexican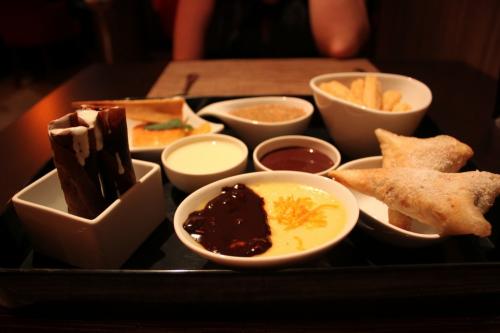 While I am not the world's biggest banana fan, my wife insisted the chocolate banana empanadas from Sabor Modern Mexican make the list because they are just amazing.
What you have essentially is melted banana and chocolate inside a fried shell.  
It seems like everyone at Sabor really loved these dessert empanadas and for good reason.  They are rich, moist and small enough that you start to think, "Yes, I should ask the waiter for a few more".
My wife also wishes to give an honorable mention to the churros from Sabor as well.  Like children, it is difficult to pick a favorite.
Cupcakes from the Cupcake Cupboard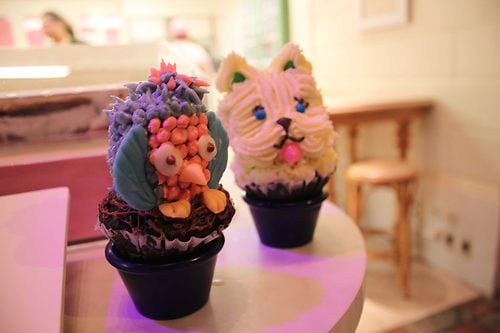 The Cupcake Cupboard debuted with the Oasis class cruise ships but they have found their way to many other Royal Caribbean ships and for good reason.  These cupcakes are awesomesauce!
First, the cupcakes are the size of a baseball, which means there is plenty to enjoy. 
Second, the rich frosting and clever designs make these cupcakes just as much fun to look at as eat (although eating is quite good too).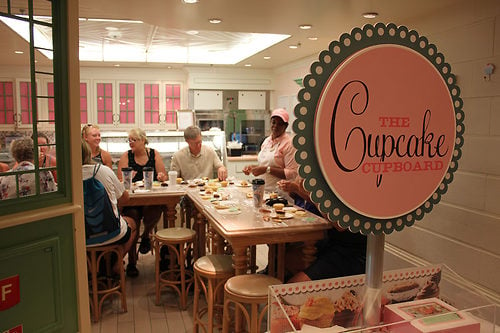 You can get bonus points in our dessert checklist if you try creating your own cupcakes at one of the Cupcake Cupboard cupcake making classes.
There are classes for children and adults and it proves you can have a lot of fun playing with your food.
Carrot Cake Trifle from Chic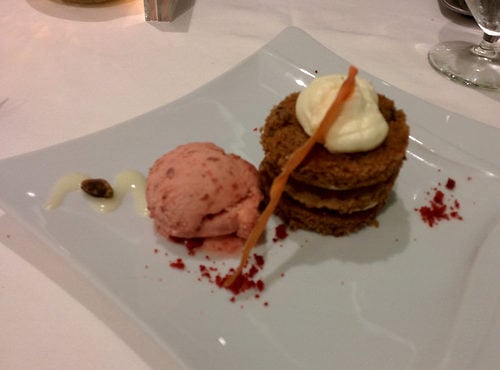 Carrot cake may not be everyone's go-to dessert choice but this bad boy is worthy of a taste.
Chic, one of the complimentary restaurants on Quantum-class ships, has simple yet elegant desserts and their carrot cake trifle makes up for in taste what it lacks in size.
You will find spiced cake with a cream cheese mousse and a raisin sorbet.  Trust me, it's muy delicioso.
Cheesecake Lollipops in Cafe Promenade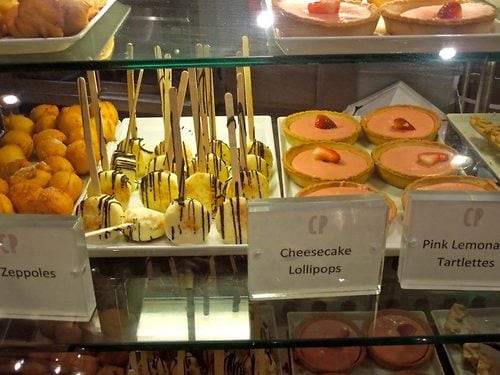 Whichever genius decided to take little bits of cheesecake, roll it into a ball and place it on a stick has my respect for furthering the human species as a whole.
If you wondering if cheesecake lollipops are as good as they sound, the answer is yes.  Yes, they are.  
The thing about these cheesecake lollipops is you cannot eat just one.  Somehow your brain compels you to get another, and another and yet another because they are so small, how could they bad for you!
Milkshake from Johnny Rockets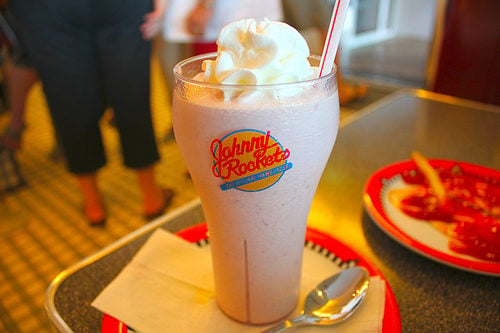 Johnny Rockets serves up a lot of classic American food but without a doubt, the item to get on the menu is the milkshake.
You can tell it is good when Royal Caribbean charges extra for just milkshakes but they are worth every penny because of how large, sweet and cold they are.  It is the perfect way to cool down from a day out in the sun or compliment a fresh-off-the-grill burger.
Milkshakes at Johnny Rockets have been a staple of any Royal Caribbean cruise for a while now and year after year, guests flock to their beloved chrome decorated restaurant for a handmade frozen treat.
What are your favorite Royal Caribbean desserts? Be sure to comment below and let us know!