Royal Caribbean will make a travel agent Anthem of the Seas' godmother
In:
It's a time honored tradition to name a godmother for new cruise ships and for Royal Caribbean's Anthem of the Seas the godmother will be a travel agent.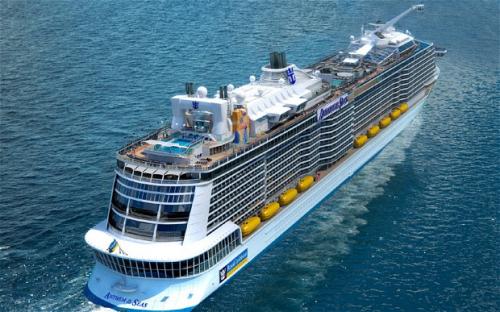 Royal Caribbean as created a new campaign called, "A Godmother Like No Other. Could It Be You?" and has launched a contest to find the ship's godmother in April.
Royal Caribbean is looking for a godmother who isn't just a travel agent but also a travel agent that can sing.  To enter, agents must show off their singing abilities by submitting a short video clip here.
Stuart Leven, UK and Ireland managing director, said having an agent as the ship's godmother would reflect the line's strong ties with the trade.
He said: "This is another wow moment for our agency partners. Royal has always been a trade-friendly brand and always will be. Since I started in this business, I have spoken about the relationship with the trade that I inherited. We not only wanted to protect that, but we wanted to take it to the next level.
"Agents are hardworking, so why shouldn't they have a little bit of fun along the way?
"We won't be short of people applying. I have worked in travel for more than 25 years and have recently spent time on agency shop floors with staff. If agents give just a snippet of the amount of energy they give to selling our brand on their performances, we will be in for something special."
The chosen godmother will also receive some fantastic prizes including a full makeover for the ceremony, coaching from music and fashion experts in the run-up to the inaugural celebrations and an exclusive seven-night cruise in the luxury of Anthem's Royal Suite.
The deadline for entries is Thursday, March 12.