In:
Royal Caribbean's Oasis of the Seas is out of a 14-day drydock and back in service with a lot of new upgrades, fixes and enhancements.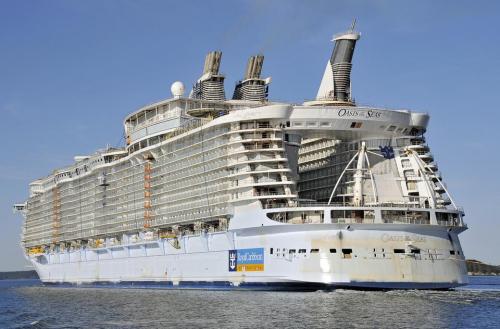 The changes to Oasis of the Seas include reimagined dining, game-changing high-speed internet, exciting new retail offerings, a new popular and favorite Broadway show, new suites with exclusive suite dining and lounge.
As we reported earlier, Oasis of the Seas is prepared for its conversion to dynamic dining, with new restaurants
American Icon Grill  (comfort foods)
Silk (Asian)
The Grande (every night here is formal night)
Guests will enjoy menus of the new concepts beginning March 14, 2015, onboard Oasis of the Seas. Guests sailing Oasis of the Seasprior to March 14, will enjoy the traditional dining room experience in the newly designed spaces. 
In addition, other new specialty restaurants were added:
Izumi Hibachi & Sushi
Sabor Taqueria & Tequila Bar
Wonderland
Coastal Kitchen
Other specialty restaurants that were previously on Oasis of the Seas remain, such as Giovanni's Table, 150 Central Park and Vintage Wine Bar.
Another big change to Oasis of the Seas  comes in the technology department. New changes include:
Boatloads of Bandwidth, the game-changing partnership with technology partner O3b that will offer guests onboard Oasis of the Seas and Allure of the Seas connectivity that matches fast broadband connections onshore and is greater than all other cruise ships combined. These new capabilities, allow the cruise line to offer affordable, easy-to-use Internet packages so that guests may watch streaming video, check email, share images on social media and enjoy face-to-face video conversations – even in the middle of the ocean. 
Royal iQ is a new app that puts guests in charge of their vacation choices.  Thanks to the dramatically improved connectivity, Royal iQ is able to continue dining reservations, shore excursions and spa appointments onboard, through both a downloadable app and at freestanding iQ stations around the ship.  Guests also can use Royal iQ as a convenient calendar that provides at-a-glance views of their program and to keep in touch with one another and home via phone and text capabilities. 
Royal Caribbean is introducing 10 new suites on Oasis-class ships, offering breathtaking views of the ocean or the ships' signature AquaTheater and Boardwalk neighborhood and includes, two Royal Suites, six Grand Suites and two Royal Family Suites, which can accommodate up to six guests. These suites offer a new level of sophistication when paired with the variety of new exclusive suite amenities that include: 
The Suite Lounge, an exclusive lounge area for suite guests to relax offering unmatched expansive views of the ship and sea; 
The Sun Deck, a new sun deck area that gives suites guests the chance to soak-up and relax in the Caribbean sun with lounge furniture, shaded and seating areas and private service; 
Coastal Kitchen is a suites only full-service restaurant offering breakfast, lunch and dinner with a Mediterranean flare. 
Oasis of the Seas will also feature CATS as its Broadway show.  This replaces Hairspray, which debuted on Oasis of the Seas back in 2009.  
Sister ship Allure of the Seas will change its Broadway show from Chicago to Mammia Mia!, which is also the Broadway show on Quantum of the Seas.
Lastly, the Royal Promenade on Oasis of the Seas has been updated as well.  Here you'll find shops from Michael Kors and the Britto Art Gallery, as well as a whole new line-up of merchandise and fashion jewelry such as, Alexis Bittar, Uno de 50, Lauren G Adams, and Nina Nguyen. 
Sister ship Allure of the Seas will follow suit in May 2015 with nearly identical enhancements.