In:
Starting September 1, 2014 Royal Caribbean will add a $10.00 per person cover charge to all guests six years and older for its DreamWorls Character Breakfast.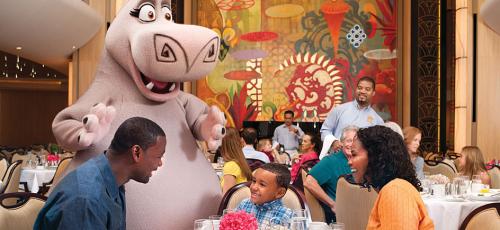 The DreamWorks Character Breakfast is offered on Royal Caribbean ships that have the DreamWorks Experience, including Oasis of the Seas, Allure of the Seas, Freedom of the Seas, Liberty of the Seas, Voyager of the Seas and Mariner of the Seas.
The character breakfast had been complimentary for all ages until now but the change goes into effect starting on sailings that depart on or after September 1, 2014.  It features characters from Shrek, Kung Fu Panda and Madagascar during a special breakfast event.
There are no changes to the breakfast event other than the cover charge for those six years old and older.  The change could be to help ease crowding with this popular event.
Reservations are recommendaed and may be made online in the Pre Trip Planner or onboard your ship.