In:
Royal Caribbean offers quick 3 and 4 night cruises on Enchantment of the Seas out of Port Canaveral, Florida and it's one of the more popular cruises out there, especially for those new to cruising. This post will be an opportunity to explore what is fun and exciting about Enchantment of the Seas.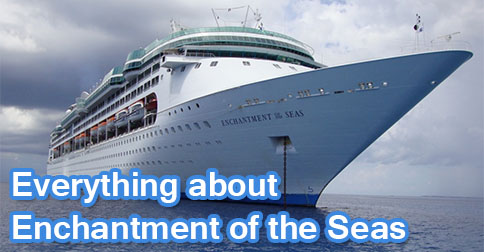 It's bigger than it used to be
One thing that separates Enchantment of the Seas from her sister ships in the Vision class is she was cut apart in the middle back in 2005 and had a 73-foot extension added and then welded back together.
It's a pretty cool distinction because a mid-body extension like that is pretty darn rare among cruise ships. They added 151 new staterooms and some other neat features we will talk about soon.
Best place for sail away: pool deck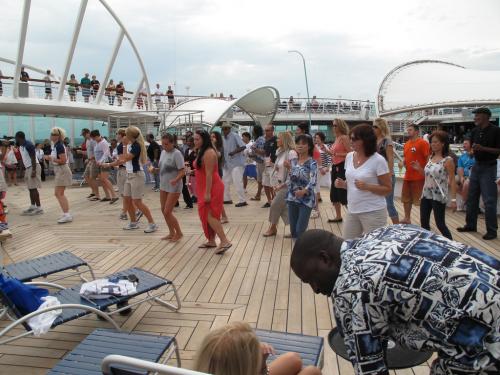 It's no secret that the pool deck is always a great spot for sail away but on Enchantment of the Seas, the pool deck is extra popular because of the short nature of the cruises offered.
These quick itineraries usually give the ship more of a party vibe to them and the pool deck is the place to be when the fun begins after muster drill.
Best place to get a drink: Oasis Bar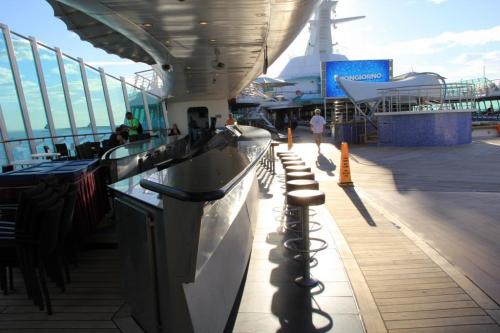 You've probably been to your fair share of pool bars, but what makes the Oasis Bar on Enchantment of the Seas really cool is it faces the ocean, allow you to enjoy the view of the ocean as you partake in your preferred adult beverage.
There isn't a whole lot of seating available, but if you get the chance, be sure to enjoy this unique bar experience that cannot be found on any other Vision-class ship.
Watch your step on the floor windows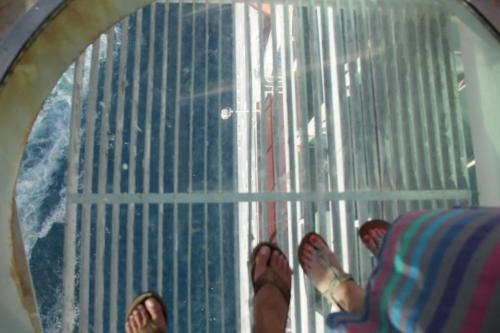 Part of the ship's extension involved adding floor windows, which give guests an unobstructed view of the ocean below.
Located on the pool deck, the floor windows give you a fun away to see the water below.
Fun things unique to Enchantment of the Seas
Dancing Under the Stars Poolside Party & Late Night Buffet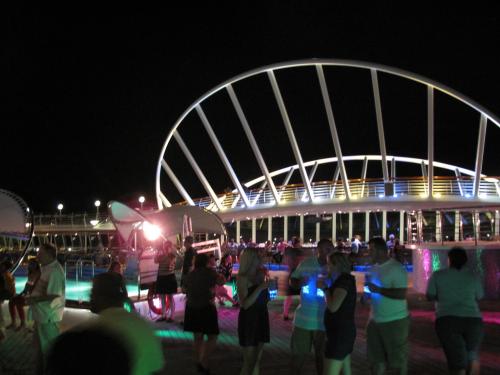 Late night dancing on the pool deck along with the Pirate Cove Buffet means you can enjoy a special nighttime party that's fun for all ages.
It begins at 11pm and offers a special party that isn't offered on all Royal Caribbean ships.
Suspension bridges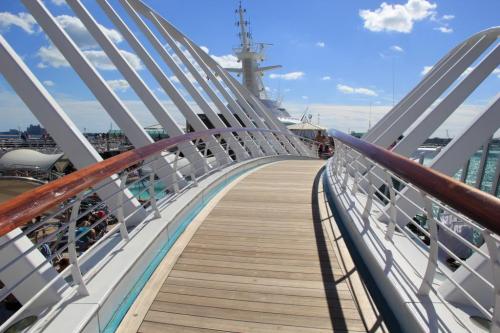 On the pool deck you will find enormous suspension bridges that span the entire pool deck.  These arches are on the top deck of the ship and span more than 65 feet on either side.
Splash Deck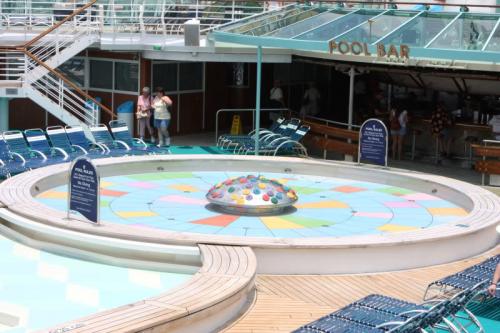 If you have kids, you will love the interactive Splash Deck, which has 64 water jets, 40 of which are connectd to an interactive touch-pad system so kids can direct the water to splash each other.
During the lengthening of the ship, the pool area was increased by 50 percent.
At night, the Splash Deck transforms into a remarkable fountain with a fiber-optic light show.
Jump Zone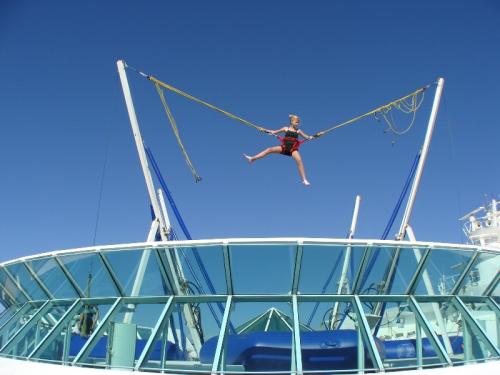 Royal Caribbean has added four bungee trampolines that they call the Jump Zone. 
You must be at least six years old and weigh between 40 and 240 pounds to participate.
You will be strapped into a harness that is connected to bungee cords. Once you're ready, you can start jumping around an ding flips during your two-minute jump session.
Enchantment of the Seas Quick Info
Formal Nights: Day 2
Specialty Restaurants: Chops
Other food that costs extra: Ben & Jerry's Ice Cream