British boy drowns on Independence of the Seas cruise ship pool
In:
A six-year-old boy from the United Kingdom was found unconscious in the pool onboard Royal Caribbean's Independence of the Seas earlier Tuesday.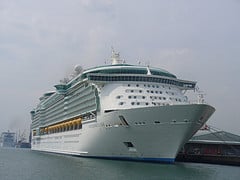 The boy was was air lifted in serious condition to a hospital in Brest, France after he was found in cardiac arrest at the bottom of the pool, according to officials in Brest.
"The child was found in a state of cardio-respiratory arrest at the bottom of the ship's pool," said Yann Bouvard, a spokesman for the maritime prefecture in the port of Brest.
Shortly before 2:00pm (12:00 GMT), sea rescue services were requested and a helicopter was sent to the ship that was in the Atlantic.
Two hours later, the child was transferred to the Morvan hospital in Brest where his condition was described as "grave".