Royal Caribbean makes big changes to future cruise booking program
In:
Royal Caribbean's popular NextCruise program appears to have changed signifigantly in terms of the benefits, according to an updated document released by Royal Caribbean.

The NextCruise program allows guests onboard their cruises to book future Royal Caribbean cruises, either a specific cruise or an open booking.
Under the terms of the new program, the amount of onboard credit a guest receives has been adjusted depending on the length of their cruise and the category of stateroom they pick.
Here is a break down of how much onboard credit you wil receive when booking a specific future cruise onboard your cruise.
Cruises of 5-7 nights

​Interior: $25
Oceanview: $50
Balcony: $100
Suite: $200

Cruise of 8-10 nights

​Interior: $50
Oceanview: $100
Balcony: $150
Suite: $250

Cruise of 11-14 nights

​Interior: $75
Oceanview: $150
Balcony: $200
Suite: $300

Cruise of 15 or more nights

​Interior: $100
Oceanview: $200
Balcony: $250
Suite: $400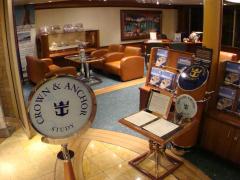 In addition, the NextCruise open booking program incentives have had their onboard credit amounts reduced, with the amount varying depending on the length of your cruise.
5-7 night cruises: $25
8-10 night cruises: $50
11-14 night cruises: $75
15 or more nights: $100
The changes appear to favor cruises of longer length as well as those in balcony or suite accomodations.
The changes appear to be in place now and effective going forward.  The new policy does not affect NextCruise bookings or open bookings previously made.