In:
Roatan, Honduras is one of the prettiest islands in the Caribbean to visit and Royal Caribbean has more and more cruises stopping at this island paradise on their western Caribbean voyages.  If you're looking for a less crowded, yet beautiful beach to visit, it's hard to go wrong with Parrot Tree Beach Resort.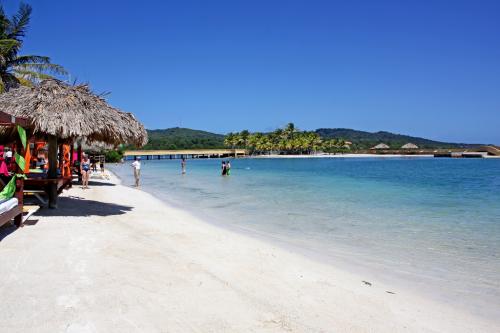 Description
Roatan's west end is well known for its beaches but because of its popularity, the beaches fill up fast and feeling like a sardine on a beach isn't my idea of fun. Enter, Parrot Tree, which is a beach resort on the east end of the island, about a 20 minute car ride from Royal Caribbean's dock without traffic.
Parrot Tree is a resort that offers day passes to cruise guests.  This isn't an all-inclusive resort, just provides access to their facilities.  Like all day-pass destinations, the advantage is smaller crowds and well-manicured grounds.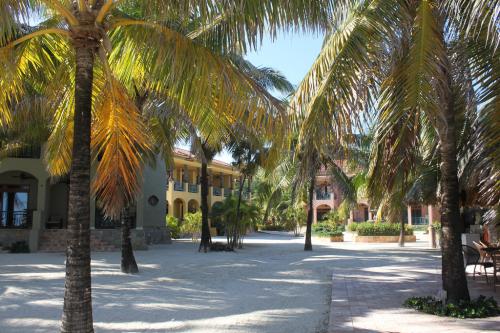 Arriving at Parrot Tree is like driving into an exotic and exlusive resort you might see in a James Bond movie set.  The road is paved with bricks that resemble something Cortes would have seen on his way to Tenochtitlan (Aztec capital city).  
Parrot Tree is on the ocean but they have built a lagoon that lets sea water in without all the waves.  The lagoon is surrounded by a white sandy beach with palapas and chairs laid out perfectly every dozen or so yards, giving each group their own private space.
Each palapa location offers 3 beach lounge chairs, a table and a beach bed.  There's also waiter service to bring you food or drink.  You can also walk to the nearby bar to get your own food and drink as well as use the free internet WiFi.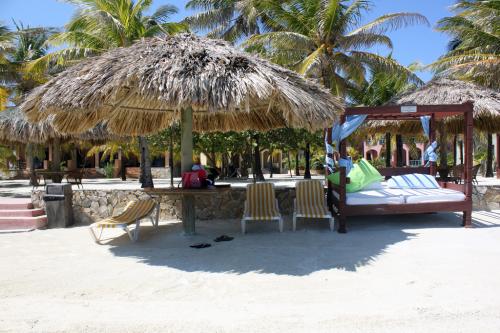 The food at Parrot Tree is a blend of traditional American food and a few local creations.  Burgers, fries and chicken nuggets are available along with the fresh fish of the day.  There's also plenty of drinks to choose from, including drinks that come in a hollowed out coconut.
The lagoon offers little to no waves, which is great for those who aren't strong swimmers or just someone who wants to relax in the water without fear of a large wave surprising them.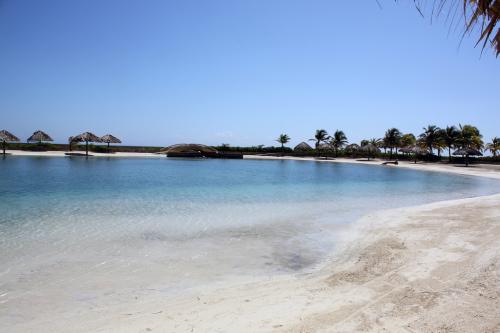 Because it's a private beach, there aren't any beach vendors offering you things to buy although we did see a woman offering massages, whom we assumed worked for the resort.
Comments
Given the price of admission ($15 per adult), it's really hard to beat what you get for the money.  Having your own private beach spot and far less crowded than other beaches is a wonderful treat.
The hidden gem here is the beach bed, which is perfect for laying down to enjoy the breeze, read a book or even take a nap.  For our 3 year old daughter, it made for the perfect nap spot and that isn't easy since she rarely naps at the beach because there's rarely anywhere comfortable for her to lay down.
In terms of the food and drink, we found the food to be quite good and good prices.  The chicken fingers were breaded in something quite good and the fried fish was particularly delicious.  You can charge food and drinks to a credit card, which means less of a need to carry as much cash on you.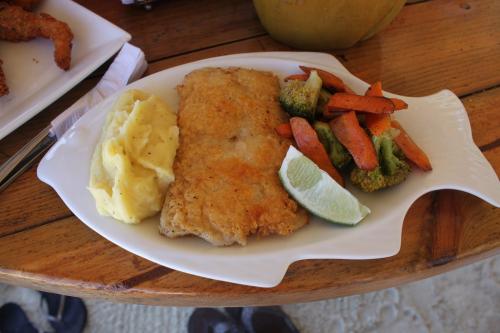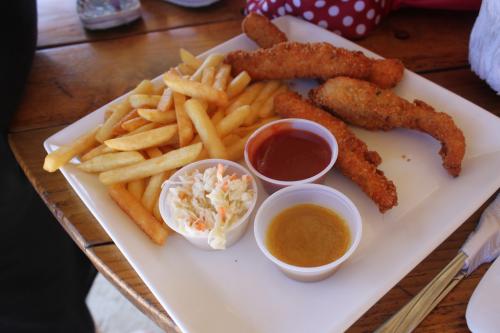 The lagoon is quite nice to splash around in or just sit down and enjoy.  It's not very deep but great for wading and enjoying the view.  While the ocean is on the other side of the lagoon, there is no beach to speak of, just a lot of rocks so swimming there is likely not an option.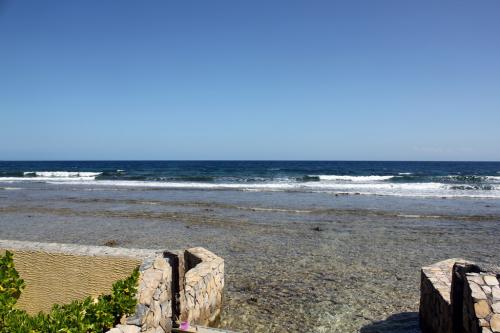 The web site for the resort claims your admission also includes access to their pool, although we were not aware of that and did not use it. 
The appeal of Parrot Tree is somewhere to go for a relaxed, low-key beach day.  For those that like to have a drink and enjoy a day in the sun, this is the place for you.  The grounds are beautiful and the value for the cost is really quite high. 
Address: Parrot Tree Plantation Roatan, Bay Islands Honduras, Central America
Cost: Adults: $15; Children 6-11: $5; Children 0-5: Free