In:
Royal Caribbean has added two roundtrip cruises out of the port of Los Angeles, California, which marks the cruise line's return to the west coast after a number of years absence.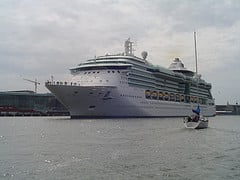 Jewel of the Seas will offer 7-night cruises on September 26 and October 03, 2015.
The cruises will visit the ports of Santa Barbara, San Francisco, Monterey and Ensenada, Mexico.  The stop at San Francisco will be overnight.
The news confirms a report we posted back in December of a possible return to the west coast for Royal Caribbean.
Royal Caribbean hasn't had a cruise ship based out of Los Angeles since 2010 when Mariner of the Seas left due to violence in Mexico.