In:
Royal Caribbean has released the 2015-2016 deployment schedule for its world wide cruise itineraries.
The deployment schedules gives consumers an idea of when to expect particular cruise schedules to become available to start looking at future cruises.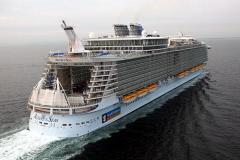 Here is the full schedule
Week of February 10

Summer/Fall Caribbean
Northeast and Fall Canada

Week of February 17
Week of February 24
Week of March 3
Week of March 17
Week of March 24

Australia/Hawaii
Winter Caribbean

Week of March 31

Short Caribbean & Bahamas

Week of April 7

Exotics
Brazil & South America

Mid 2014
Future Deployment
Asterisk denotes Crown and Anchor Society members will be eligible for advance booking on select ships.