In:
Preliminary construction of the new cruise port facility in Bayonne, New Jersey was halted on Friday after it was discovered plans for the port makeover included the removal of hundreds of memorial pavers that surround the September 11 "teardrop" memorial.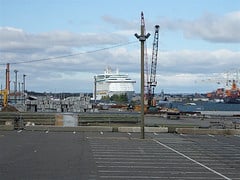 Residents were "outraged" according to NJ.com, after learning the $50 million project would include the "temporary" removal of about 300 pavers.
Frank Perrucci, chairman of the Sept. 11 Bayonne Remembers Committee, said he was told by workers at the site that the construction project would cut through a portion of Harborview Park -- where the "To the Struggle Against World Terrorism" memorial is located --  and would mean the "temporary" removal of about 300 pavers.
The memorial will not be affected and workers indicated that the pavers would be put back into place when the construction is complete in May.
The cruise port makeover includes a new Cape Liberty Cruise Port terminal building, a parking garage, an overflow paved parking area and berth improvements on land owned by Port Authority.