In:
If you've ever sailed with Royal Caribbean or been researching a cruise with Royal Caribbean, you have heard about other people getting onboard credit for their cruises.  In some cases, it can be hundreds of dollars.  So how does someone get onboard credit and for how much?
What is onboard credit?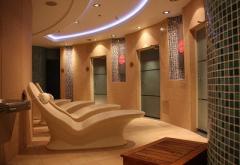 Let's start with defining what onboard credit is.  Royal Caribbean can offer guests onboard credit, which is money pre-paid into your onboard account to be used on the cruise.  
It's "free" money that you can spend anywhere onboard your Royal Caribbean cruise, including at Labadee or CocoCay (Royal Caribbean's private islands).  Basically, if it goes on your SeaPass card, you can use your onboard credit.
You don't have to specify to use your onboard credit, Royal Caribbean automatically starts deducting from it as you charge to your onboard account.
How do you get onboard credit?
There's a number of ways to get onboard credit for your Royal Caribbean cruise.  Some or all of these methods can be combined but it all depends on everyone's specific case.
Booking a cruise onboard a Royal Caribbean cruise
This won't help you for your current or upcoming cruise, but if you on a Royal Caribbean cruise and book a new cruise reservation or a NextCruise Certificate, you are entitled to up to $200 per booking.
Crown and Anchor Society Advertised Promotional Sailings 
Royal Caribbean's loyalty program, Crown and Anchor Soceity, will offer promotions to encourage bookings such as onboard credit.  The exact amount of onboard credit will depend on the promotion.
WOW Sales and other cruise deals
Royal Caribbean offers cruise deals throughout the year and often will throw in onboard credit as a way of getting more people to book. 
The price of the cruise may be unaffected but Royal Caribbean has offered in the past hundreds of dollars to get guests to book more cruises.  
Royal Caribbean Visa card points
Royal Caribbean's Visa card offers reward points for the money you charge to the card.  As you reach certain point milestones, you can redeem the points for onboard credit.
Apology from Royal Caribbean
When bad things happen that is out of the ordinary, Royal Caribbean will try to make things right by offering guests onboard credit to offset the problem.  
Incidents like poor service, billing inaccuracies and other frustrations are often handled with onboard credit (in addition to remedying the situation as best they can).  
Travel Agent promotional offer
Travel agents often can offer customers onboard credit through many different ways.  It can sometimes be a result of a group booking space or the amount of money you spend or the category of stateroom you book.
The exact amount offered varies from sailing to sailing, but onboard credit is one way travel agents differentiate themselves from one another and take steps to earn business.
Bring a friend
For each stateroom first time Royal Caribbean passengers book that you refer, Royal Caribbean will offer you onboard credit as a reward.  
You will receive $25 in onboard credit for each stateroom your friends reserve on your cruise booked. You may refer up to a maximum of 5 staterooms for any length of cruise.
The first-time guest must be sailing on the same ship and sail date as you, the member.
You can register for this credit by going to RoyalCaribbean.com/BringAFriend.
Can I combine onboard credit offers?
Yes, in many cases you can combine onboard credit offers.  There are some offers that do not allow you to "stack" onboard credit offers, so you will need to read the fine print of each offer to see which is more lucrative for you.
What can I spend my onboard credit on?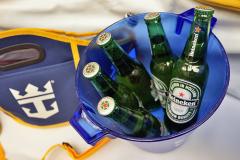 You can spend your onboard credit on virtually anything you can charge to your SeaPass card.  This includes, but not limited to....
Spa services
Beverages (alcohol or not)
Souvenirs
Specialty restaurants
Gratuities
The truth is you don't select an individual purchase to spend your onboard credit on.  Rather, if you have $100 in onboard credit and you spend $500 total on your SeaPass account, you will be charged $400. Any purchases you make with your SeaPass card first deduct from the onboard credit and then when your onboard credit runs out, charges to your account normally.
Regardless of if the purchase is paid for by your onboard credit or not, each purchase will still appear on your bill.
When do I get my onboard credit?
When you begin your Royal Caribbean cruise, onboard credits are applied as the ship's computer system downloads each guest's account information from Royal Caribbean's central servers.
It's not uncommon for Guest Service to not be able to verify your onboard credit amount until the evening of your first day onboard.  Don't worry, they are usually pretty good with making sure it's there.
It may be smart to have printed copies of the onboard credit you are entitled to, just in case there is an issue but you should be able to verify the correct amount is in your account by the end of the first day.