In:
Gianni Rotondo, Royal Caribbean's general manager in Italy is happy with the recent numbers the cruise line has seen in the country.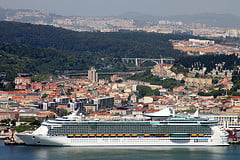 "The January-March quarter saw an increase in passengers by 20%, with an 8% increase in average revenue, "says Rotondo, noting an increase in price as a customer's propensity to choose the more expensive cabins. 
"In 2013, we exceeded the levels of profitability by not only 2012 but in 2011, recording the highest margin ever in Italy." 
While still in winter, Royal Caribbean Italy is already looking ahead to the summer season and has launched a new promotion called "Room with a discount", which returns after a good showing last year.